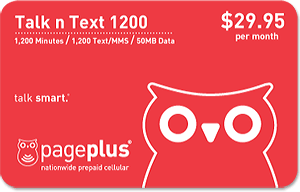 For those of you looking for a reliable prepaid cell phone plan, check out the Talk n Text 1200 plan from nationwide prepaid cell phone service provider Page Plus Cellular. The plan includes 1,200 anytime voice minutes, 1,200 text or picture/video messages and 50 megabytes of data for just $29.95 a month. The Talk n Text 1200 plan is a more affordable option for people who use average amounts of voice/text/data each month and do not need an unlimited plan. In addition to this, you can get great Verizon coverage without the heavy price, and you can avoid any additional fees or taxes. Plus, there's no contract!
Additional Information:
Offered by Page Plus Cellular- a Verizon Wireless Reseller.
No activation fee. No fees. No taxes.
Same coverage area as Verizon Wireless Prepaid.
All iPhones are officially banned. You may get booted off the network at any time if you manage to activate an iPhone.
All 4G/LTE phones are officially prohibited.
All other postpaid Verizon phones with a clean ESN/MEID will work.
So if you're a cell phone user who depends on talking and texting instead of using data, sign up for Page Plus Cellular's Talk n Text 1200 Plan! For just $29.95 a month, you can enjoy 1200 anytime minutes, 1200 texts/MMS, and 50 MB of data. You can fully enjoy this prepaid cell phone plan because it comes with no taxes or additional fees and no contract. Plus, you get solid Verizon Wireless coverage! So if you're looking for an affordable cell phone plan, sign up for the Talk n Text 1200 Plan.

Continue finding new ways to save money online!