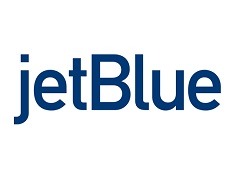 One of the major downsides of traveling is the lack of Wi-Fi in airports or in airplanes but JetBlue has solved this problem! JetBlue now offers free Wi-Fi on all of their flights, gate to gate. Which means you don't even have to wait till you're on the airplane itself to surf the web. Simply click to get into their Free Wi-Fi!

JetBlue Free Wi-Fi:
JetBlue has become the first U.S. airline with free in-flight Wi-Fi in all of their planes. And if you're an Amazon Prime you can even stream videos in flight for free through JetBlue's partnership with Amazon. JetBlue's free Wi-Fi even extends gate to gate at most airports as well, so you can even use their Wi-Fi while waiting for your flight. Just simply connect to their Free Wi-Fi at your gate.

Bottom Line:
If you hate paying for Wi-Fi as much as I do and don't want to waste your data while traveling then make sure to check out JetBlue airlines for Free Wi-Fi on all their flights and even Free Wi-Fi at almost all Jetblue gates. Check out more ways to Save Money!