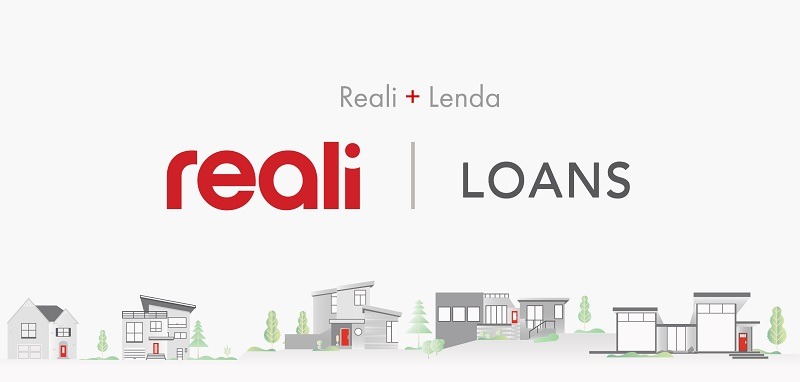 If you're looking for Lenda, they merged and re-branded themselves as Reali Loans. They provide an easy and straightforward way for you to get a home loan and refinancing online, from start to finish. You can get the most accurate and transparent rate quote with better rates and no lender fees!
It's also conveniently fast since you can start your home loan or refinancing online and you can complete your application anywhere! Plus, get help and support when you need it! Continue reading below to learn more about Reali Loans and how it can help you make the home purchase you always dreamed of!
---
What is Reali Loans?
Lenda is now known as Reali Loans after merging with Reali. Reali is a full-service real estate broker that helps create a streamlined and commission-free home buying and selling experience. What does this change mean for you?  Although they changed their name, they still offer the same tech and concierge services with still no fees!
---
Reali Loans Quick Summary
| | |
| --- | --- |
| Min. Credit Score | 620 |
| Min. Down Payment | 5% |
| Loan Types & Products | Purchase, Refinance, Jumbo, Fixed, FHA, VA |
---
Mortgage Options & Rates
The lender only covers conventional fixed-rate loans for purchases and refinancing, which means that government-backed mortgages, like FHA and VA loans, are not option. You should consider other lenders, if you're looking for home equity lines of credit (HELOCs), ajustable-rate mortgages, or subprime loans.
---
Products Offered
Reali loans offers different products from purchase and refinance loans with fixed or variable rates and jumbo loans up to $3 million, and it underwrites FHA- and VA-backed mortgages.
According to van den Brand, their average borrower has a 760 FICO score and takes out a $335,000 loan. You can get your free credit score here.
---
Reali Loan Process
With Reali's online platform, you can complete your loan application, upload and sign your documents electronically, as well as track the process of your loan.
Here's how the process works:
1. Get Started2. Rate quote page3. Rate comparison page4. Additional details5. Loan application6. Credit check7. Disclosure documents8. Upload documents
Visit Reali.com, click on 'Get a home loan' or 'See your rates.' Then you'll be answering some basic information about the home you want to purchase (or your current loan if you're refinancing) and your mortgage goals.
Fill out a short form that differs depending on whether you're purchasing or refinancing.
For purchase borrowers:
The form will as for an estimated purchase price and down payment, your ZIP code and credit score range.
You'll be prompted to provide your email address and password to create a free account
For refinancing:
How much you owe on your current mortgage
Your home's estimated value
Your ZIP code and a credit score range.
You get to see rate comparisons on this page, it will be based on the information you provided. Reali Loans will give you upfront information about all third-party, required fees you might incur for the loans quoted.
You can also adjust your rate and term, and indicate whether you want to lower your rate with discount points or finance closing costs, and whether you want to use an escrow account.
You loan estimate will be more accurate, when you provide more information about your current financial situation.
To fill out the streamline application, you'll need to answer questions relevant only to the approval process.
They Reali Loans won't ask questions that pertain only to investment properties if you're applying for your primary residence.
You can review and sign electronically the Loan Estimate and disclosure documents since they are both online.
There's going to be a checklist with all the necessary documents you'll need in order to complete your loan application.
Documents like: tax forms, bank statements, and pay stubs.
Then you will be uploading the to Reali and once they're uploaded, the application is complete! Reali will review it for accuracy and will contact you if more information is needed.
You can check on your loan application progress through Reali's Client Dashboard, a loan adviser will be available to help you with any questions or assistance.
---
Availability
Reali Loans has kept its focus primarily on the West Coast. Currently, you can apply for a loan with Reali Loan if you live in Arizona, California, Colorado, Florida, Georgia, Illinois, Michigan, Oregon, Pennsylvania, Texas, Virginia and Washington states.
---
Bottom Line
Reali Loans might be the one for you if you're looking for a loan. They also offer other services like free rate, locks, at-home e-closings, electronic employment verification and single point-of-contact throughout the loan application process.
However, the only drawback is that, Reali Loans operates in 12 states: AZ, CA, CO, FL, GA, IL, MI, OR, PA, TX, VA, WA. But if you're looking for the real estate brokerage, Reali, it is available only in California.
If you're looking for a personal loan, check out the list we've complied for the best online personal loan lenders! While you're here on HMB, consider looking into how to save money or make money online.