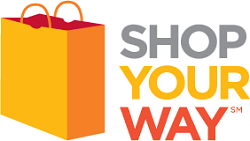 If you purchase items on Shop Your Way this is definitely a deal you should check out. There is a promotion going on through November 20th, 2016 where you can get $10 back when you spend $25 on any affiliated products on the site! This deal comes just in time for the holiday season if you need to purchase gifts for your friends and family. Shop your way is Sears loyalty program where you can purchase products and earn points. Be sure to check the list of brands that offer the $10 back in points.
Shop Your Way $10 Bonus Info:
Click here to learn more
Availability: This offer is valid through 11/20/16 when shopping Shop Your Way on affiliated products
Expiration: 11/20/16
Promotion: Earn $10 bonus when you spend up to $25 on ShopYourWay
Terms: Offer valid up to 1 offer per member, cannot be combined with other Shop Your Way promotions

How to get the $10 Bonus Points:
Create a Shop Your Way account if you don't already have one
Place an order up to $25 on the Shop Your Way portal
Earn $10 worth of bonus points back
Use your points or save them up!
Bottom Line:
This is a great way for you to earn some extra cash if you're shopping this holiday season for your friends and family. Many of the items offered on Shop Your Way are good gift items that you would at other online or in store retailers, so it's definitely worth checking out to see if you have items you want to purchase and get the $10 back. Be sure to take advantage of this deal through November 20th, 2016! If you want to check out other ways you can save money, see our full list of articles to save money!