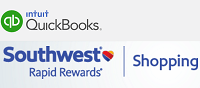 Shop through the Southwest Shopping Portal and earn Free 700 Rapid Rewards Points when you subscribe to Quickbooks Online, for a limited time only. I know 700 points is not a huge bonus but what's important is that these points count towards the coveted companion pass. Quickbooks does charge  a monthly fee of $12.95 for their Online Subscription, however the first month is waived and you won't have to enter a credit card for the trail period. Once the promotional period has ended you can choose to cancel your subscription but will still receive your 700 RR bonus points. It's best to jump on this deal if you are working towards that companion pass as opportunities to earn free points are dwindling.
Southwest Portal 700 Points:
Promotion: Subscribe for a free QuickBooks one month trial period from Southwest's online shopping portal and receive a 700 RR points bonus.
Valid: Limited promotional period.
Terms: Not eligible on purchases made with coupon or discount codes that are not found on this site. ONLY eligible on the Quickbooks Desktop and Quickbooks Online products. Only eligible on one trial. Reward is on a per product purchased basis, not per dollar. Customer must complete online purchase. All other products, services and trials do not qualify.
How to Get 700 RR Points:
Go through Southwest Shopping Portal and look for the QuickBooks 700 Points offer.
Follow the link and enroll for the promotion.
There is no need to input a credit card unless you choose to forgo the free trial month and enroll now.
At the end of the trial period you may choose to keep your QuickBooks subscription or terminate with no cost.
Bottom Line:
Subscribe for QuickBook Online and get Southwest Shopping Portal 700 Rapid Rewards Points. With all the recent account closings for Prepaid accounts and other changes to gift card terms, getting free points is less accessible.  Jump on this deal if you are working towards the Southwest Companion Pass or just want 700 free points to apply to future Southwest travel. Be sure not to miss out on any Points, Miles or Bonuses Offers!