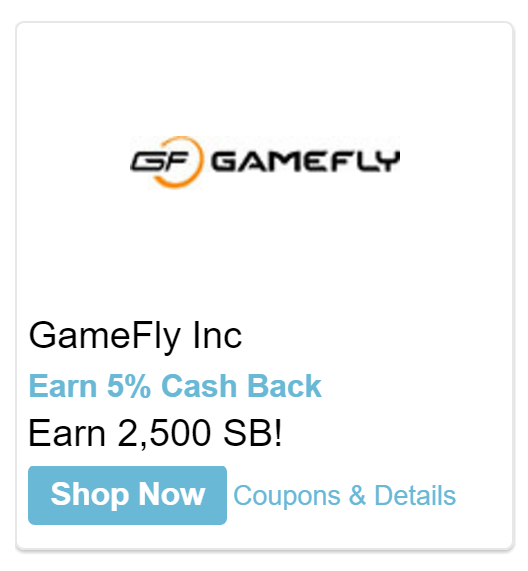 Swagbucks is currently offering you a chance to earn 2,500 free SB when you open a new account for GameFly at $10 for 2 month subscription. The 2,500 Swagbucks is equivalent to $25 thus with the cost of the subscription of $10 you will net an earning of $15 with this promotion! On top of the great SB bonus you will also receive a free month subscription of Hulu. However, you will need to provide credit card information during registration. I recommend to cancel around the third week since they may cancel your SB account if you cancel within 8 days if you aren't going to continue the subscription service with GameFly.
Editor's Note: If you want a credit card that is perfect for this promotion, we recommend you signing up for the Chase Freedom Unlimited.
Swagbucks - Swagbucks is offering an exclusive promotion where you can get a $10 gift card when you spend at least $25+ on qualifying purchase within the first 30 days of signing up. This is a free cash back shopping portal with thousands of big name retailers to shop from. Out of the thousands of shops to choose from you can earn up to potentially 20% cash back. Sign up for the alerts about the latest and most popular promotions but be sure to make your $25+ on qualifying purchases within 30 days of registering to earn your $10 gift card! Apply Now---

Swagbucks Review
Swagbucks Free 2,500 SB W/ GameFly:
Promotion: 2,500 Swagbucks for GameFly subscription
Expiration Date: Limited time only
Requirements: You must provide your credit card to sign up for the 2 month subscription of GameFly
Terms and Conditions: 

You must be a new GameFly customer. SB Awarded within 24 hours. This offer may only be redeemed ONE (1) time per user. This offer is presented to you by Swagbucks on behalf of a third-party merchant or sponsor ("Merchant"). Swagbucks does not endorse (and therefore is not responsible to you for) the Merchant's views, policies, products or services. Have questions? Please contact the Swagbucks Help Center.
Free 2,500 SB GameFly Subscription:
Sign up for a free Swagbucks Account.
Visit this Swagbucks GameFly to earn 2,500 free Swagbucks.
You'll instantly earn an easy 2,500 Swagbucks within 24 hours of purchase of the 2 month GameFly subscription.
Set up a reminder to cancel your GameFly subscription at the end of the two-month membership.
Bottom Line:
This Swagbucks GameFly promotion is an easy way to earn 2,500 swagbucks which is an equivalent of $25. You'll net an earning of $15 after payment of 2 month subscription to GameFly. Remember to set yourself a reminder to evaluate if you should cancel the subscription before the two months are over. To cancel, login to your Gamefly account and click on your name on the top right, go to account setting, then cancel my membership. For more ways on how to Save money, check out our full list!