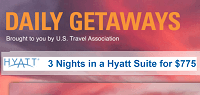 Today's Daily Getaway offers Hyatt Gold Passport Purchase points up to 72,000 Bonus Points, sale starts at 1pm EST TODAY Friday April 29th while available. These points packages are extremely limited, if you are interested in getting these Hyatt Points stalk this site well in advance. And your best bet is to choose one package you'd most benefit from to try and buy. Short of a T3 connection it's not likely you will get more than one offer bonus. There are four packages in total with the most offering 72,000 Hyatt Gold Passport points for $775, at a cost of approximately 1.1 cent per point. The most cost efficient package is 24,000 Hyatt Gold Passport points for $260, at a cost of approximately 1.08 cents per point.
Daily Getaways Hyatt Points Promotion:
Requirements: You must be a Hyatt Gold Passport member to take advantage of this offer, if not enroll now at goldpassport.com.
Valid:  Starting at 1 PM EST today only while supplies last.
Offer: Purchase Hyatt Gold Passport Points from Daily Getaways at deeply discounted package pricing for stays at participating Hyatt properties.
Terms: All sales are final and no refunds or substitutions will be provided after the transaction is complete. You must provide first and last name and Hyatt Gold Passport® membership number to receive bonus points associated with package. To join Hyatt Gold Passport®, visit goldpassport.com. Hyatt Gold Passport free night awards apply to standard available rooms only as defined by each hotel and are not subject to blackout dates. Hyatt Gold Passport free night awards cannot be redeemed for packages. In order to redeem Hyatt Gold Passport points for free night awards, members must make award reservations in advance via goldpassport.com or by calling their nearest Hyatt Worldwide Reservation Center.
Get 72,000 Gold Passport Points:
Visit www.dailygetaways.com to buy discounted Hyatt Gold Passport Packages:
You may buy a set of each so if you want more you can use other Gold Passport accounts to buy additional points package.
Use Chase Freedom to earn rewards on every purchase you make.
Bottom Line:
Purchase up to 72,000 Hyatt Gold Passports Bonus Points that can be redeemed toward a free stay at a participating hotel or resort within the Hyatt portfolio. And you may use your purchased points at anytime. This is a limited time promotion, even if you don't have plans yet you should sign up so you can save bonus points for use at a later date. Look for more rewards at our Points, Miles & Bonuses page!