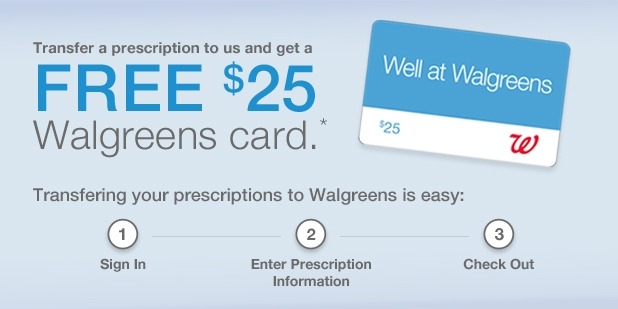 Do you have a monthly prescription from your doctor? Walgreens Pharmacy is now offering $25 gift card to do a transfer prescription good until 5/31/2013. It seems like you can create a free online account to easily transfer your prescriptions to Walgreens Pharmacy. You'll get such great features like automatic refills, refill reminders and the convenience of ordering refills on-the-go with your mobile device. They even give you the option to pick up your prescription or have it shipped to you for FREE
Here's a little trick from the past: Many of Walgreens competitors such as K-Mart, WalMart, CVS, etc will match the $25 Walgreens promotion. Follow these steps to maximize this promotion:
First month:
Print out this Walgreens $25 Rx transfer gift card
Take it to your local Walgreens pharmacy to transfer your prescription and get the $25 gift card.
Next month,
Print out the Walgreens pharmacy $25 gift card coupon and take it to another Drugstore.(Walmart, CVS, etc)
Tell them to price-match competitor's coupon and ask for a gift card.
After the next month, do the same as the 2nd month to get another $25 gift card.  Repeat the process with Tomb Thumb, Krogers, Walmart,  CVS, etc. With the rising cost of prescriptions in the U.S, it's important to take advantage of this Walgreens promotion to the fullest. Tell your friends and neighbors about this neat treat to lower their healthcare costs today!

Hot Deal of the Day: Mr. Rebates offers $5 bonus with best cash back for online shopping from major stores such as Best Buy, Newegg, Sears, Home Depot, etc.