Here's another chance for you to earn some mega bonus points if you're interested for more! Hilton Honors has released separate Winback promotions to entice members that have not had stays for a while and give them some points!
These offers are targeted, so check your email to see if you're eligible or log into each promotion. For all the offers, you need to register and consume your required nights within 90 days of registering. After that, the points will be added to your account once everything has been processed. Hurry now to take advantage if you want some mega points!
Hilton HHonors Winback Promotion:
Promotion: Earn up to 50,000 points when you register or sign up for a 2 or 4 night stay that must be completed within 90 days
Availability: This offer is only valid for recipients of the email invitation and is not transferable and is one-time use only.
Expiration: December 31, 2018 (50,000 Bonus Points Offer); January 10, 2019
Terms & Conditions: Must register between now and deadline for the specific offer and complete required stay within 90 days of registration. A 'stay' is defined as the total number of consecutive nights spent at the same hotel, whether or not a guest checks out and checks back in again. You must provide your Hilton Honors account number at the time of booking. Please allow six to eight weeks from completion of your fourth night stay for Bonus Points to appear in your account.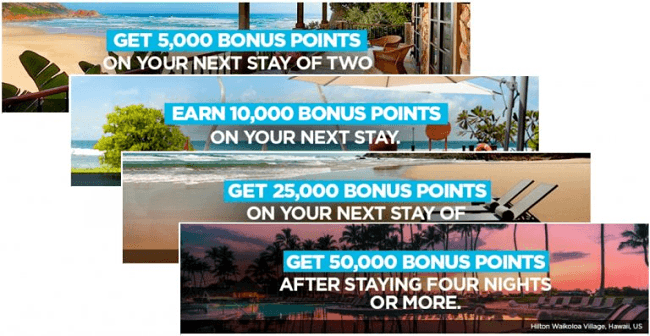 How To Earn Up to 50,000 Points:
Sign in or register for Hilton Honors program to see if you were targeted.
Once you have register, you can now start booking your 2 or 4 night stay of your choice.
You must complete this within 90 days when you have been targeted.
After you complete that, your points will be added to your account shortly!
Bottom Line:
Earning points has never been so easy until now. With Hilton Honors, you have four opportunities to earn up to 50,000 points when you stay for 2 – 4 nights or more within 90 days. All the offers are targeted, so you can check your emails or account to see if you are eligible. Expiration varies depending on which offer you've received, but the earliest offer expires December 31, 2018 which should be plenty of time for you to register and decide on where you'd like to be staying. Hurry now before it's too late! For more ways to earn points, bonuses, and miles, check out our full listings here on HMB!