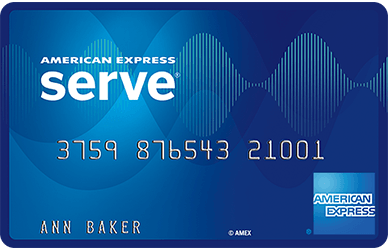 Open up an American Express Serve account with no credit check, no minimum balance, and no hidden fees. It's a great alternative to debit and other prepaid cards that's loaded with great features. Account holders enjoy no credit checks, no monthly fees, and just $1 Monthly Fee (no fee NY, TX & VT)*. It has given PayPal some real competition and is seriously challenging the lucrative prepaid credit card market. While American Express Serve is primarily a type of prepaid card, it has extra features that make it a hybrid. There are many good reasons why you would need a prepaid credit card these days.
American Express Serve Card Features:
Your Full Service Reloadable Prepaid Account (American Express Serve is not a credit card.)
No credit check. No minimum balance. No hidden fees.
Enjoy American Express service and security 24/7. Shop online or off and get access to Card Membership benefits like Purchase Protection*
Add cash at thousands of locations including CVS®, Family Dollar®, Walmart®, and participating 7-Eleven® locations
Free ATM withdrawals at over 24,000 ATMs nationwide.
*Terms, conditions and exclusions apply. (Purchase Protection is underwritten by AMEX Assurance Company.)
Summary of American Express Serve:
What is Serve? Serve is a digital prepaid account that gives you a safe way to pay in stores, online, and on your mobile phone. It's free to sign up.
Serve is from American Express: Get a Serve® prepaid card to use everywhere American Express® Cards are accepted in the U.S.
Benefits of membership: Get access to benefits like 24/7 customer support, Purchase Protection, Roadside Assistance, and Entertainment Access.
Security: Serve uses advanced technology from American Express to keep your information and transactions safe and secure.
Get the app: Download the mobile app for iPhone®, Android™, and Windows® Phone to move money or split the bill on the go.
Link your bank account or card: Add money to your account with a bank account, debit card, credit card, or MoneyPak®.
Get cash at ATMs: Use the Serve® Card to get cash at ATMs. Serve will waive its $2 fee for your first withdrawal each month. ATM owner fees may apply.
Additional features: Send or request money with a wall post on Facebook, create subaccounts for family and friends, and use widgets to sell items online.
The biggest reason is to make online purchases. People who want to stay clear of using their Visa, MasterCard or American Express for online transactions have an ally in the American Express Serve. As a consumer, you want to have the option to use your regular plastic only for sites that you trust. For anything else, it's safer to go the prepaid way.
While most credit cards protect your purchases, a prepaid version like the American Express® Serve is able to provide an added layer of protection. However, unlike the typical prepaid plastic, the Amex version does not have an activation fee. To illustrate, the Vanilla prepaid MasterCard will charge you a $5 activation fee on your first transaction.
This amount is deducted from the amount available on the card, which is a major annoyance for first time users of this type of plastic. Just imagine if you paid $20 for the card over the counter. Theoretically, you can only use $15. Worse, most providers will bar you from doing any further transactions, once the balance left is only 15% of the total value of the card.
As a result, there is about 30% right there that you, the card owner never get to use, which is a significant waste. Of course, this amount returns to the card provider. Another major annoyance is that prepaids expire. You may have like four months to use up the balance, or the money gets taken once again by you know who. The American Express Serve eliminates all these annoyances, which is definitely a big relief.
You will only need one card which you can keep filling up over time with money from your bank account or a major credit card. In this area, American Express Serve upstages PayPal because you don't have to keep withdrawing from your funding sources every time you need to load up. With American Express Serve, you get to automate the process, which is a major convenience.
Just like PayPal, you can send money by email through American Express Serve, but the latter takes the convenience further by allowing you to do this via text messaging and Facebook as well. With its handy features, the American Express Serve has managed to bring back the power to the consumer with regards to the usage of the prepaid mode. Credit card providers tend to forget the fact that in going this way, you are actually using your own money, not theirs.
Hence, you deserve every bit of extra courtesy accorded by the American Express® Serve. Prepaid providers tend to emphasize the fact that getting the card does not require a credit check, without realizing that in going their way, you, the consumer is actually the one who's fronting the money.

American Express Gift Card: Use promo code SUMBB good til 9/30/2015 for no purchase fees! Make gift shopping easy this year. Amex gift cards have no monthly fees, no inactivity fees, and the funds don't expire. Read our review for more Promotional Codes! Apply Code Here!--Review

American Express® Premier Rewards Gold Card offers 25,000 membership rewards® points for spending $2,000 within the first 3 months of card membership. You can now get up to $100 a year for incidental fees with your selected airline. Cardholders earn 3X points for flights booked directly with airlines, 2X points at US gas stations, US supermarkets and U.S. restaurants, 1X points on other purchases. You can use points for gift cards for dining, entertainment, and to shop over 500 of some of your favorite brands. There is a $0 introductory annual fee for the first year, then $195! Apply Now---

Premier Rewards Gold Review