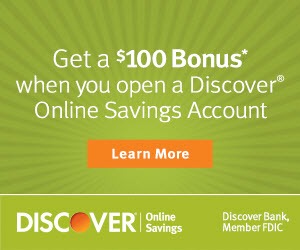 Discover Bank, one of the largest internet banks, offers a variety of financial products such as Online Savings, Certificate of Deposits, IRA CDs, Discover credit cards, and many more. I put together the best list for all bonuses and promotion codes for all their online financial products to give you the best deals online! You'll find $100 online savings bonus with $15K deposit. Plus, online savings account gets 1.01% APY interest with no maximum. With a Discover credit card, there are some nice features that integrate your credit card with Discover Bank.
Discover Bank $100 Bonus Information:
Account Type: Online Savings Account
Availability: Nationwide
Expiration Date: 05/31/2017
Maximum Bonus: $100
Direct Deposit Requirement: No
Monthly Fee: None
Additional Requirements: Must deposit $15,000 by 06/15/2017 to receive the maximum $100 bonus
Closing Account Fee: None
Discover Bank Online Savings $100 Bonus: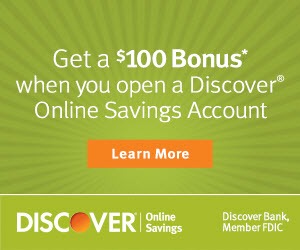 Discover Bank's Online Savings Account offers $100 Bonus with $15K deposit plus a higher interest rate of 1.01% APY for all balances! The promo code HMB217 is auto populate, so click apply on the application page to the exclusive promotion. Your Online Savings account FDIC-insured on up to $250K and you'll earn one of the highest rates online for your cash balances. The account will provide a safe and secure way to save money each month with no minimum balance or monthly maintenance fees! As with any online bank, Discover is able to avoid overhead costs of a physical branch, thus saving money and offering you a higher savings rate. When you apply and fund your online savings account, you can start earning 5x more than the national average with a 1.01% APY. Apply Now—Discover Bank Online Savings Review
Open Discover Online Savings $100 Bonus:
Opening the Discover Bank Savings Account to earn $100 Bonus can be easily done online with a simply 3-step process. With less than 15 minutes, you can complete the whole online process with some personal information including your name, address, date of birth, and social security number.
Open a Discover Savings Account to earn $100 Bonus + 1.01% APY rate in minutes simply by enter your information such as address, phone, email and social security number.
Make sure to Apply Code HMB217 to see the confirmation of $100 bonus promotion.
Fund the savings account with $15,000 minimum via ACH transfer from another bank account, by check, or by wire transfer.
Finally, verify information and electronically sign your application. They may ask your to verify some information on your credit report such as old addresses or loans.
Discover Bank Certificate of Deposit:
Discover Bank Certificates of Deposit (CDs) offers many higher rates depending on the length of the term from as little as six months or as long as 120 months term. I find that Discover Bank has a lot of competitive CD rates. The minimum deposit is $2,500 and the interest rates increase the longer you lock your money into a CD. Apply Now—Discover Bank CD Review
Discover Bank IRA CD's:
Discover Bank IRA CDs offers some of the best guaranteed return and no risk up to 10 years in length. They offers both a Roth IRA and tradition IRA CD which you invest after you pay the taxes on the money and is withdrawn tax free. The Traditional IRA CD is whereas you invest before paying taxes on the income, the account grows tax free, and then you pay taxes on the money you withdraw.
Those looking for a long term CD investment, you will find Discover Bank's CD rates are very competitive. A Discover Bank IRA CD will allow you get both guaranteed savings and the tax benefits from a retirement account. If variations in the stock market concern you or you want to have guaranteed income without the possibility of losing money, then a CD is a nice way to steady out a portfolio that is heavy on stocks. Apply Now—Discover Bank IRA CD Review
Discover Bank Money Market Account:
Discover Bank's Money Market Account offers 0.85% APY rate on balances up to $99,999. Those with a balance of $100K or higher, you'll earn 0.90% APY with easy cash access via ATM, debit, or check. There is no hidden fees and get access to over 60,000 free ATMs. Discover Bank provides great APY rates so you can earn more money with many free features transfer money, withdraw money, deposit money, view your daily activity, or pay bills in just a few steps online or on your mobile phone. However, customers are limited to 6 pre-authorized withdrawals per statement cycle, including automatic or telephone transfers. An initial deposit of $2,500 is required to open a Discover Bank money market account, and a $2,500 balance must be maintained to avoid fees. If you stay above $2,500 and the withdrawal limits, there are no fees associated with this account except for special services (e.g., wiring money, ordering checks). Apply Now—Discover Bank MMA Review
Discover It Credit Card $50 Bonus:
The Discover it® – Double Cash Back($50 referral link) is the newly revamped cash back credit card with a $50 bonus after first purchase, 12 months 0% APR on purchases and balance transfers, and 5% Cashback Bonus in rotational categories. Since it has a double cash back promotion for new cardholders, your $50 referral bonus will become $100 bonus at the end of the year. You will also get 5% cash back from popular categories on up to $1,500. Don't forget, you earn 1% cash back on all other purchases. Discover It has absolutely no annual fee and free FICO® Credit Score. Apply Now—Discover It Card Review
Discover Savings Account Features:
1.01% current interest rate. This rate is one of the highest online!
24/7 live customer support. Discover customer support has been outstanding, helpful, and superb.
FDIC insurance up to $250,000.
No minimum balance requirement
No monthly fees
Interest is compounded daily and credited monthly.
Auto Savers Plan: The Discover Savings Account allows easy automatic transfers from your personal checking account into your savings account each month.
Discover Mobile Banking App: You can control everything from your smartphone or tablet such as checking your account balance, view recent account activity/earned interest, and make transfers.
Don't forget about our exclusive promotion with Discover Bank's Online Savings Account to earn $100 bonus with $15K deposit.