Simply sign on for $1 , wait for membership, receive the gas card, then cancel. Total profit = $39
From the website:
Enjoy a month of money-saving discounts on routine maintenance, repairs, plus 24-hour roadside assistance for your immediate family. Just try AutoVantage® with your first month for just $1 – and no obligation to continue!Act Now: Just click Submit below and as a "thank-you," you'll get $40.00 worth of Gas simply for trying AutoVantage!It's Easy to Get Your $40.00 worth of Gas:

Try your first month of AutoVantage for $1, by entering your information and clicking Submit below.
Follow the directions in the email we'll send you at the beginning of your trial to print out and "cash in" your Gas Rebate coupons. It's that simple!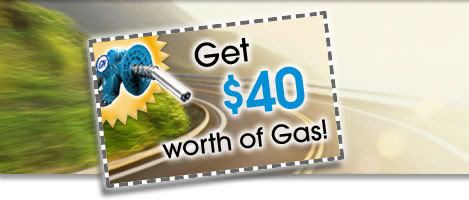 My favorite and only everyday's brick & mortar bank is Washington Mutual. By signing up online, you will get free checking + 5% APY Savings account. You can't beat that for a brick & mortar bank! From personal experience, I get great customer service. If you ever overdraft your account, they will give you one freebie per year. Did I mention that you will get free bill pay and free checks for life! There is no monthly checking fees. This bank deserves Hustler's 5 out 5 stars rating. If you already has a WaMu account and you are not getting the 5% APY rate, simply open this new one and close your old one. Open now by clicking through the link below.