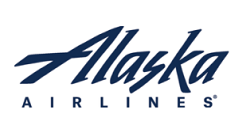 Birthdays only happen once a year, so make full use of that special day by taking a trip to somewhere you've always wanted to visit. The should apply to Alaska Airlines members more so than others because you can receive special birthday discounts! Book your birthday travel and you can save up to 5% for you and a friend! How many airlines are this considerate? The promo codes are unique and delivered by email so remember to check your inbox frequently around your birthday. If you receive this deal but don't plan on using it then feel free to share with fellow readers by posting it in the comment section below.

Alaska Airlines Birthday Promotion:
Promotion: Receive up to 5% off on travel
Expiration: Varies on member birthday
Availability: Alaska Airline members
Terms & Conditions:  Valid for one discount of 5% off all base fare levels published at alaskaair.com. Recipient of this Discount Code must be the purchaser or one of the travelers. Up to 2 people per Discount Code, traveling together and booked and ticketed at the same time in the same reservation and at the same fare.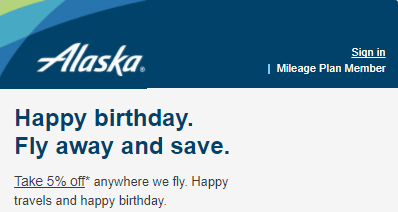 Get Up To 5% Off Travel:
Check your emails around your birthday.
Follow the link "REDEEM YOUR GIFT" provided by Alaska Airline which contain an unique code for up to 5% off for travel.
Book a fight using your promo code to receive discount at checkout.
Bottom Line:
If you are not an Alaska Airline member yet then sign up now! Otherwise be on the look out for special 5% birthday discount. This promotion may vary person to person so there is no definitive expiration date. Keep your eyes peeled for this promotion, if your birthday is still a ways off then set an alarm as reminder. Whatever the case may be, this is an easy and practice way to save money. If you have a spare code you don't plan on using then be sure share it. If you want more ways to save money while shopping online, check out our frequently updated listings on HMB!