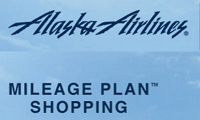 Shop through the Alaska Airlines Shopping Portal and earn Free Mileage Plan 700 Bonus Miles when you subscribe to Quickbooks Online, for a limited time only. You will also receive 50% off when you shop for Quickbooks online through their portal. The new and improved QuickBooks Pro Desktop software makes it easier to stay on top of invoices and bills, complete tasks in fewer steps, and customize QuickBooks to work the way you do. Save time and streamline everyday tasks. Once the promotional period has ended you can choose to cancel your subscription but will still receive your 700 Mileage Plan bonus points.
Alaska Airlines Portal 700 Bonus Miles:
Promotion: Subscribe for a free QuickBooks one month trial period from Alaska Airlines online shopping portal and receive a 700 Mileage Plan points bonus.
Valid: Quickbooks and Quickbooks for Mac are valid 12/31/2016. QuickBooks Self-Employed valid 7/31/2016.
Terms: Not eligible on purchases made with coupon or discount codes that are not found on this site. ONLY eligible on the Quickbooks Desktop and Quickbooks Online products. Only eligible on one trial. Reward is on a per product purchased basis, not per dollar. Customer must complete online purchase. All other products, services and trials do not qualify.
How to Get 700 Mileage Plan Miles:
Go through Alaska Airlines Shopping Portal and look for the QuickBooks 700 Points offer.
Follow the link and enroll for the promotion.
There is no need to input a credit card unless you choose to forgo the free trial month and enroll now.
At the end of the trial period you may choose to keep your QuickBooks subscription or terminate with no cost.
Bottom Line:
Subscribe for QuickBook Online and get Alaska Airlines Shopping Portal 700 Mileage Plan Bonus Miles. With all the recent account closings for Prepaid accounts and other changes to gift card terms, getting free points is less accessible. Shopping portals are an easy way to earn more miles or points and extend the expiration date on your existing miles. Be sure not to miss out on any Points, Miles or Bonuses Offers!