American Airlines is offering the chance to earn bonus miles through its "Welcome to the Program" promotion that will allow you to earn a maximum of 30,000 bonus miles by participating. If you are not an AAdvantage member, check out the promotional site anyways because it provides a link to register! The promotion, which ends on 8/31/2012, features short clips of current AAdvantage members sharing tips about how to earn AAdvantage miles. Completing the program will allow participants to unlock special mileage-earning offers that range from 1,000 to 30,000 miles. The miles can be earned by booking round-trip flights on American Airlines that are scheduled to fly between 09/04/2012 and 11/15/2012.
In addition to earning bonus miles, participants will also be eligible to enter a sweepstakes for a VIP travel package. In this promotion, one grand prize winner will win a package that includes 200,000 AAdvantage miles, a six-night hotel stay, a rental car, a $750 shopping spree and a $500 gift certificate from the AAdvantage Dining program.
How to Earn Bonus Miles:
Sign up to become an AAdvantage member if you haven't done so already
Acquire "operative training" through the Welcome to the Program promotion by 8/31/2012
Book an eligible round-trip flight on American Airlines by September 15, 2012
Complete travel between September 4 and November 15, 2012
If you would like to earn extra miles for travel, check out American Airlines "Welcome to the Program" promotion that will allow you to earn a maximum of 30,000 bonus miles by participating. To take part in this offer, you only have to be 18 or older and an AAdvantage member. Completing the promotion by 8/31/2012 will allow you to earn between 1,000 and 30,000 bonus miles.

Find more ways to earn bonus points and miles!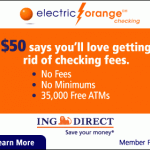 ING Direct Checking is offering $50 bonus promotion after making 3 card purchases or Person2Person Payments within 45 days of account opening. Your $50 bonus will automatically be deposited into your account on day 50. With over 35,000 free ATMs to use, there is no minimum or monthly fees with your Direct Checking account. Your money is FDIC-insured with high earning interest. In addition to your free MasterCard Debit Card with free Online Bill Pay, account holders can use their mobile app or your computer to deposit checks from anywhere with CheckMate.