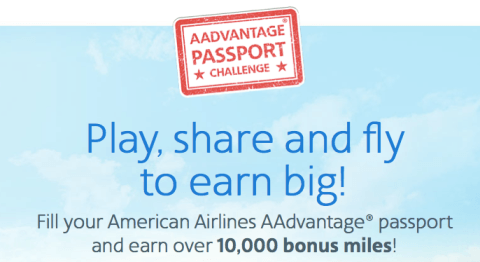 Go over to the American Airlines Facebook page and click on the AAdvantage Passport Challenge tab to earn over 10,000 bonus miles! This is a great way to earn American AAdvantage Miles On Facebook in order to extend your mileage expiration date. You will need to enter your American Airlines AAdvantage number and name in order to play(free to join if you don't).
The questions and games are all pretty straightforward with a number of miles through the promotion:
Play trivia and other games to earn up to 700 miles
Share and complete social actions to earn up to 350 miles
Fly our expanded network to earn over 9,000 miles
The 700 free miles for playing the trivia and games shouldn't take no more than 10 minutes. Share it with your Facebook friends for an extra 350 miles. Note that bonus miles will be awarded within 3-4 weeks after the promotion period has ended.