You can now get a $25 bonus from American Express Prepaid Card when you pre-load your prepaid card with $200 or more by August 31, 2012. You can see the $25 gift card bonus promotion, so click on the picture to order. There is no credit check to get the card and no monthly or annual fees. Also, you'll pay no purchase fees or overdraft fees. You are allowed 3 prepaid cards per person, hence this is a $75 total bonus if you have 3 different names on each as these cards(you can use other family members name).
How to order:
Load the Card with at least $200 by August 31, 2012.
Get $25 Bonus Amex gift card.
Do it again for up to 3x for a total of $75 bonus.
Card Features:
no credit check,
no monthly fees,
no upfront purchase fees,
no inactivity fees,
and no overdraft fees if you try to spend more than what is on the card
The Amex Prepaid card comes with loaded benefits, but not with fees. Members can access to world-class Cardmembership benefits, like Purchase Protection1 on eligible purchases, Roadside Assistance2, Fraud Protection, and Global Assist Services3. Don't wait much longer and sign up today for this American Express Prepaid Card $25 cash bonus offer.

Visit our Make Money Online page to see all methods of extra cash!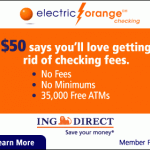 ING Direct Checking is offering $50 bonus promotion after making 3 card purchases or Person2Person Payments within 45 days of account opening. Your $50 bonus will automatically be deposited into your account on day 50. With over 35,000 free ATMs to use, there is no minimum or monthly fees with your Direct Checking account. Your money is FDIC-insured with high earning interest. In addition to your free MasterCard Debit Card with free Online Bill Pay, account holders can use their mobile app or your computer to deposit checks from anywhere with CheckMate.