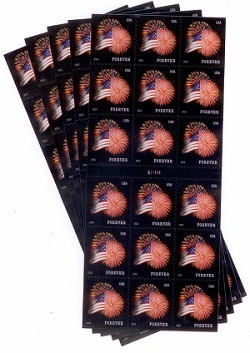 Buy 2 booklets of 90 Forever Stamps for below face value on Amazon with offer code 20P5PCK2. You can either buy the 2 of the 90 Forever Stamps or 2 of the 900 Forever Stamps.
Here's the math:
2 books of 90 stamps will cost $86 or 47.7 cents per stamp.
2 books of 900 stamps will cost $839.92 or 46.6 cents per stamp.
Of course the face value for a forever stamp is currently 49 cents and mostly they will go up throughout the years. By buying forever stamp, you can use it for eternity and never have to worry about prices going up. Buy the Stamps today and save money!

Capital One SavorOne Cash Rewards Credit Card