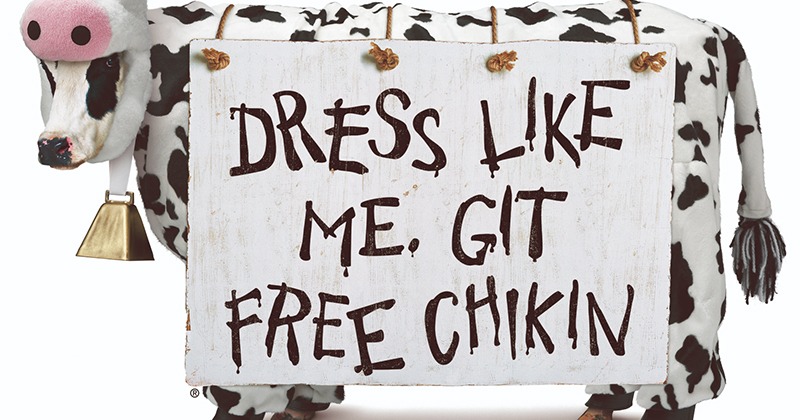 Quality, fresh chicken awaits you at your local Chick-fil-A! Chick-fil-A is hosting its annual Cow Appreciation Day on July 9, 2019. On this day, when you come in dressed like a cow, you can score a free breakfast, lunch, or dinner entree (excluding salads) from opening time until 7pm! Customers who arrive wearing any sort of cow apparel will receive one free entree.
You can wear items, such as a cow-spotted scarf, purse, hat, or other accessories. In addition, if your children wear anything cow-like, they can receive a free Kid's Meal. Make sure to take note and plan ahead so you can wear your best cow-like dress attire and claim your free entree or Kid's Meal on this special day!
Note: If you eat out often, I recommend to get the Capital One Savor Cash Rewards Card, Wells Fargo Propel card, or the American Express Gold Card to earn one of the best cash/points back on your purchases For more options, see our list of credit card bonuses.
Chick-Fil-A Cow Appreciation Promotion
Promotion: Dress Like a Cow and Get a Free Entree or Kid's Meal
Expiration: July 9, 2019 from opening until 7pm
Requirements: Wear any sort of cow-like attire
Availability: Nationwide (Restaurant Locator)
Terms: One entree or Kid's Meal per person. In order to simplify the experience for both customers and Chick-fil-A team members, entrée salads will no longer be available to redeem as part of Cow Appreciation Day.

How To Get a Free Chick-Fil-A Entree
Plan ahead and wear something cow-related on July 9, 2019!
Make sure your kids join in on the fun as well!
Go to any Chick-fil-A (Restaurant Locator) from opening to 7pm, and choose any entree you like (excluding salads) for free. Your kids will also get a free Kids Meal.
Enjoy your free entree and Kids Meal!
Bottom Line
Do you like free food? Do you like Chick-fil-A? Well, this offer is perfect for you! You and your kids can score a free Chick-Fil-A entree by coming in like a cow! Just come in on July 9th, 2019 with any type of cow attire to receive your free entree or Kids Meal (salads excluded).
In addition, there's no limit of how many different Chick-fil-A you go to,so if you want, rinse and repeat! Do you like freebies? Is your birthday coming up? Check out our full list of birthday freebies for sweet deals and offers like this one!