ClubCorp is the largest owner and operator of golf and country clubs is currently offering membership to their ClubCorp Travel for only $50 a month. This membership includes  two free green fees per club per month, two free 4-course meals per club at private business clubs each month and more. Membership normally costs $200-$500 per month and they are even waiving their $1,000 initiation fee, so this is a heavily discounted deal! Select states such as Iowa, Minnesota, Montana, North Dakota, South Dakota, Utah and Wyoming will enjoy an even further discounted membership fee of $25 per month. This ClubCorp Travel membership promotion is a deal that should not be missed, sign up for your membership today!
Editor's Note: Please note that there is a $250 cancellation fee if you cancel your member within 12 months. Additionally, note that the 4-course meals excludes any courses within 100 miles of your home and you must pay a 20% service charge, tips and any alcoholic beverage purchases.

ClubCorp Travel Membership Promotion:
Promotion: $50/$25 ClubCorp Travel Membership
Expiration: For a limited amount of time
What To Do: Go onto the ClubCorp Travel Promotion Page, select your state and fill out your information and purchase your membership. The price should be listed after you select your state.
Terms: Membership that is cancelled within 12 months will have to pay a $250 cancellation fee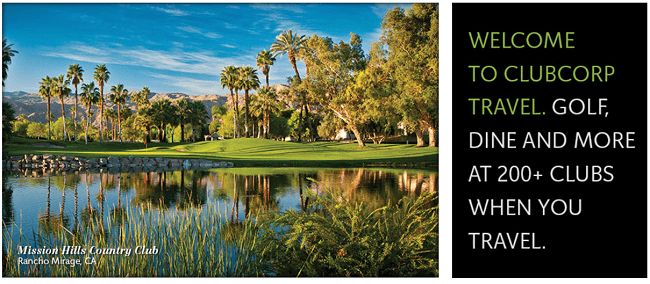 Get ClubCorp Travel Membership:
Click the "Join Now" button and select your state
Once you've select the state it'll bring you to a page where it'll display Membership Due, which will list it as $50 or less
Fill out your information and pay your dues
Enjoy ClubCorp Travel Membership for only $50/$25!
Bottom Line:
If you're big on golfing or on free food, then check out The ClubCorp Travel Promotion and get a membership for only $50 a month. Those of you who live in the lucky few states of Iowa, Minnesota, Montana, North Dakota, South Dakota, Utah and Wyoming only have to pay $25 for a membership. Enjoy the benefits of free food and golfing at 200+ locations. This membership usually costs $200-$500 and they're even waiving the $1,000 initiation fee, so take advantage of this deal before it's gone! Check out more ways to Save Money!