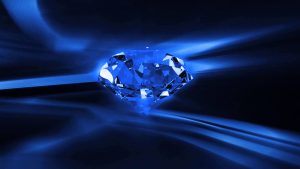 You have probably heard of the 4 C's of Diamonds- Cut, Clarity, Color, and Carat, but have you heard of diamond fluorescence? While the 4 C's should be a large influence into what kind of diamond you will buy, it is important to know the small details that make a diamond even more special. With a combination of these factors, you will be on the way to purchasing an almost perfect diamond. In this post, we will go over what diamond fluorescence is and why it is important in your diamond shopping strategy.
Editor's Note: If you're interested in shopping for a great diamond, check out the table below with our best picks for diamond shopping!
Where Is The Best Place To Buy An Engagement Ring?
For
Diamond Retailer
Best Place To Buy Online
James Allen
Biggest Selection
Blue Nile
Best Diamond Cuts
Whiteflash
What is Fluorescence?
Diamonds rely on light reflections to create shining brilliance. Under specific UV light conditions, some diamonds will start to give off a soft glow. This soft glow is diamond fluorescence- emission of light when the diamond is shined on by a UV light. Every diamond has an aspect of fluorescence that is graded from None to Very Strong. It is not exactly an important price or performance factor, but it does give another characteristic to define one diamond over another.
Where does Fluorescence Come From?
Diamonds are made from a complex chemical structure that takes 100's of years to make. If the chemical structure and atoms align in a certain way, fluorescence will be made when a UV light is present. The UV light has high energy and when it is shining on the aligned atoms, the atoms become excited and start emitting fluorescence/soft glow.


At Blue Nile, their jewelry is designed and crafted with high-caliber, quality materials and inspected with exceptionally high standard.
• Highest Diamond Quality Standard & Authenticity Certified
• Get More For Less & Always Have The Best
• Best Price: Find a comparable GIA graded diamond for less and they'll match the price. Pay 20% up to 40% less than traditional jewelers


Do I Want Fluorescence?
While it may seem cool to have a diamond that is perfectly arranged to have a different glow, fluorescence doesn't exactly mean a good thing. High fluorescence can indicate bad qualities in a diamond!
These diamonds with high fluorescence can have murky and smoky characteristics that will look good in a dark settings like clubs because of the UV lights, but bad in regular settings. Another bad thing about high fluorescence is that it could indicate a fake diamond. Many fake diamonds have the same qualities of high fluorescent diamonds!
How Fluorescence Diamonds are Found
If a diamond is graded under certain certifications, special equipment is used to shine diamonds under special light conditions that can help measure the diamond's fluorescence. Additionally, the diamond is viewed in many angles to grade the amount of glow.


At James Allen, their diamond and gemstone fine jewelry collection offers hand-crafted pieces of unforgettable luxury that are perfect for any occasion.
• Their mission is to offer consumers online the highest quality diamonds & largest selection at the best price.
• 150,000+ certified conflict-free diamonds, all photographed in 360° HD
• 24/7 Diamond Experts, with option for Real-Time Diamond Inspections
• Lifetime Warranty, Free Shipping Worldwide
• Hassle-Free Returns with 100% Money Back Guarantee


Diamond Fluorescence Grades
There are many diamond associations that grade diamonds to ensure that the system is fair and standardized. One of the best diamond certifications any diamond retailer can get is the Gemological Institute of America (GIA) Certification. If you would like to learn more about what they do, be sure to check out our post on the GIA Certification.
The GIA grades fluorescence based on descriptions of the glow's power.
Very strong- high fluorescence
Strong
Medium
Faint- little fluorescence
None- no fluorescence
Like said, diamonds with a GIA grade of "None" will usually indicate a higher quality.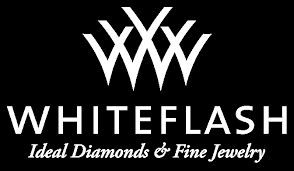 At Whiteflash, they're all about the Ideal Cut Diamond carrying the largest inventory & best selection of AGS certified ideal diamonds in the world!
• Exclusive provider of their own A CUT ABOVE® Super Ideal Diamonds
• Finest designer brands such as Tacori, Verragio, Simon G, Ritani, Danhov, Vatche, and Benchmark
• Entire staff GIA trained including several Graduate Gemologists & Diamond Graduates
• Complete Satisfaction Money Back Guarantee


Bottom Line
While not as important as many other factors of diamond quality, fluorescence is a factor that can be looked at to loosely determine the quality of a diamond. A high fluorescent diamond will look really good in dark settings with UV light that will give the diamond a soft glow, but in plain sight, these diamonds are typically more murky and unclear. When shopping for diamonds and having to pick between two diamonds with different fluorescence, it is probably the safer pick to go for the diamond with the GIA grade of "None." If you're interested in the most important part of diamonds, cut, then you should check out our comprehensive guide on Diamond Cuts!