Interested in a delivery service to get food quicker and in the comfort of your own home? DoorDash is a service where restaurants who do not have a delivery program are able to deliver with DoorDash drivers to get you your food anywhere you are! If you are new to DoorDash and you sign up through this post, you will be able to get up to $15 towards your first order!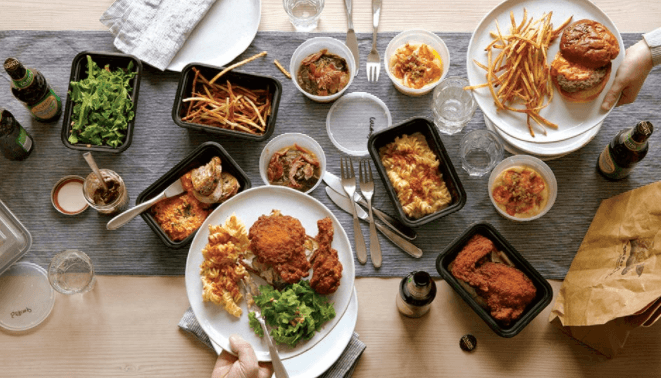 If you're are new to DoorDash and would like more information about this service and ways to save money on this platform, be sure to sign up and read more below!
About DoorDash
DoorDash is an online service that can deliver food from your favorite restaurants right to your door, including options like California Pizza Kitchen, The Cheesecake Factory, and more. And thanks to DoorDash's "revolutionary logistics technology," they'll have your food to you in less than 45 minutes.
All you have to do is log on to the DoorDash website (or use their iOS or Android app), place your order (there's no minimum size), and sit back and wait. Compared to traditional delivery services though, you can schedule your DoorDash order up to four days in advance.
If you are new to Doordash, you are able to get get a $15 sign-up bonus towards your first order!
DoorDash Driver Program
Once hired as a "Dasher," you will be able to sign up for available shifts in your desired location. During your shift, you may be assigned to wait near a partner restaurant for orders to roll in. Once an order is placed, you are dispatched to make that delivery.
Dashers are paid $5 per delivery plus tips. DoorDash will fund the difference in the event the dasher does not make at least $10/hour with the delivery fee and tips. As an Independent Contractor, you are responsible for gas and maintenance of your vehicle. That will count as a tax deduction.
For more details about becoming a DoorDash driver, refer to our Doordash Driver Review before you make you decision!
DoorDash Ordering Process
Probably the easiest way to begin using DoorDash is to enter your address on their home page, or by clicking on your neighborhood in the list under each city's name. From there, DoorDash will let you know which restaurants in your area they work with.
At this point, you'll also be able to view an estimated delivery time, which will be updated again when you check out, depending on the size of your order. Based on when you place your order, a restaurant might be listed as "Busy," which means "their current delivery time exceeds standards for a fast delivery, and they're temporarily not accepting orders for that restaurant."
At the time of our research, DoorDash operated in the following cities:
Atlanta
Bellevue, WA
Boston
Chicago
Dallas
Denver
Houston
Indianapolis
Los Angeles & LA Valley
Manhattan & Brooklyn
Minneapolis
Orange County, CA
Phoenix
San Diego
San Francisco & East Bay
Silicon Valley
Toronto
Vancouver, BC
Washington DC
Beginning Your Order
Begin by clicking on the restaurant you're interested in, you'll be able to view their menu. If they offer different menus at different times of the day, you'll be presented with all options.
After choosing your menu, you'll be able to view all available selections. See something you like? Just click on the dish, choose the quantity, indicate what you'd like to do if an item isn't available (e.g. refund item, cancel entire order, contact you, etc.), and add to cart. This is also where you'll enter any special instructions.
After Your Order Has Been Placed
Once your order has been placed, DoorDash will either immediately send it over to the restaurant of your choice. Or, if you've selected a specific time (up to four days in advance), DoorDash will send it over at an optimal time in order to ensure it's "hot and fresh from the kitchen."
DoorDash Delivery Cost
DoorDash is paid a commission by each restaurant they work with. As such, some restaurants may pass the cost of this commission along to their customers (making their base prices slightly higher), while others will keep their prices the same as an in-restaurant visit.
The delivery fee for your first DoorDash order will be $1. After that, your delivery fee can vary, but it will always be listed on the checkout page prior to finalizing your order; along with an itemized list of your order, food cost, and tax. You'll also be able to enter a tip in this section, and invite friends to earn credits applicable toward future orders.
In addition to a Doordash food delivery fee, the Doordash food deliverywill also charge a "service fee", which varies based on the restaurant from not Doordash Delivery fee or Doordash service fee, to a $6.99 Doordash Delivery fee and 20% Doordash service fee stack on top of one another.
Note: DoorDash charges a double delivery fee for all orders over $100.
DoorDash Convenience
Like any delivery service, yes, DoorDash can make it more convenient to get food from some of your favorite restaurants delivered right to your door. If you are looking to use Doordash food delivery, make sure to sign up through this post in order to get save on your first order.
From this perspective, while placing a delivery order will almost always come with some kind of added cost (such as a tip for the driver), you might be paying more on all sides when it comes to DoorDash. In other words, your food might be more expensive due to the restaurant's commission with the company, on top of DoorDash's delivery fee and any tip (although this last part is certainly optional).
Add to this that, even if you live in a city where DoorDash operates, you'll still need to be in a very specific neighborhood (often urban and centralized) in order to take advantage of their service.
Given all of this, along with DoorDash's mixed online customer reputation, means that we'd strongly recommend exploring all your options before placing your order. Because if you're not satisfied (even if it's clearly the company's fault), it doesn't appear you'll be able to get a refund.
Bottom Line
DoorDash is a great way to have access to delivery at restaurants who do not normally deliver! The DoorDash mobile apps are easy to use as their iOS version has 4.5-star rating and a 3-star rating on Android. Overall, it seems like both of these apps work reasonably well with Doordash's services. Be sure to sign up if you haven't already to save up to $15 on your first order! Feel free to continue reading on HustlerMoneyBlog for more ways to Save Money, buying Discounted Gift Cards, and for the Best Cash Back Shopping Portals!