Apporamaman wrote to me about Emusic 100 free songs promo. You can do this multiple times as long as you have a different credit card and email address. Of course, make sure you call to cancel within thirty days so you won't be charged.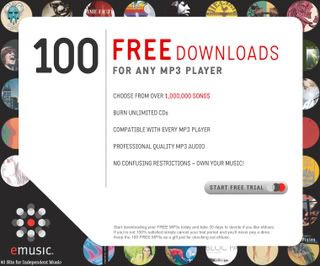 He also let me know on my post about Citi Credit Protector:
You said, "finally wait for your $100 rebate check so you can cancel your citi credit protector."

No need to wait for the rebate check! You only need to wait until you have received gas certificate. Then cancel, wait three days, go online, and enroll again.

AS of this morning, I have banked $700 from this already. I have $600 more in Certificates (waiting to mail when I get enough receipts–make sure you ask family/friends for receipts–I've just started doing that), $400 more in Certificates on the way. I have $200 more in Retention coupons ($10 coupons), but those are a pain.

Why so much money? because my wife and I have multiple cards. I'm working six cards ( no balance of course). My wife, who hated canceling, is now an old pro.
Haha…man…true hustla indeed. Thanks playa.