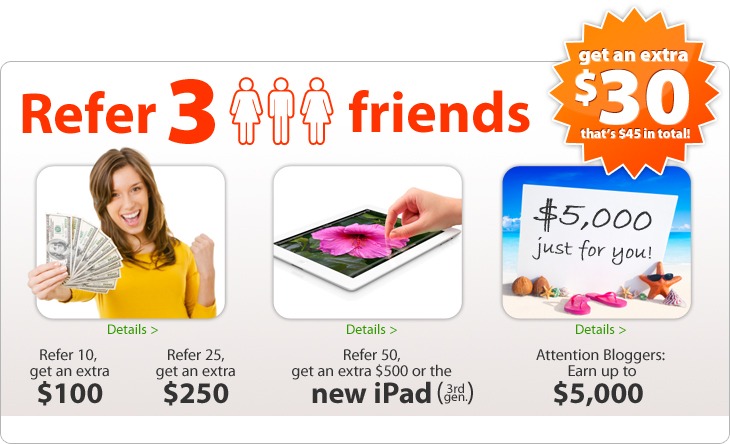 For current members of Ebates(new members get $10 sign up bonus), you can now earn $45 in cash bonus for referring new members with their special Tell-A-Friend promotion through September 30, 2012. Ebates is a cash back network that gives members earn money for shopping online for almost every retailers such as Best Buy, Overstock, Newegg, and many more.
In order to earn the $10 Gift Card bonus, you must make a purchase of at least $25 through the Ebates shopping network. You choose the $10 gift card from Barnes & Noble, Target, The Home Depot, or Magazines.com. If you want straight cash, the amount is only $5.
Ebates $30 Bonus Referral Promotion:
Sign up for an Ebates account or log in if you already has one.
Click on Tell-A-Friend, and refer 3 people for an Extra $30 between 7/1/2012 – 9/30/2012.
Your "friend" must make at least $25 in purchases to earn their bonus. You will only qualify when they do this.
With the $5 regular bonus per referral, you will earn a total of $45 bonus cash money.
More details about their Referral Promotion:
Get an extra $100 if you refer 10 new members
Get an extra $250 for 25 referrals
Get an extra $500 or the new iPad for 50 referrals
Get an extra $1,000 for 100 referrals
Get an extra $2,000 for 200 referrals
Get an extra $3,500 for 300 referrals
Get an extra $5,000 for 400 referrals
I've been writing about Ebates since 2006 and can absolutely tell you that this is a legit program. I have made over $1K with Ebates Tell-A-Friend Promotion. For those that are new, Sign Up Now to get your $10 gift card bonus from Ebates and enjoy cash back online shopping.

Find more ways to Make Money Online from out list!