Looking for great ways to save money while shopping online? Ebates, one of the biggest cash back shopping portals, is offering a $10 gift card signup bonus + unlimited $25 cash bonus for referring your friends!
You earn a $25 cash bonus for each referral with the special Good Friends Tell All promotion, available though December 31, 2018. In order to earn your $10 cash bonus, your must spend $25 or more at your favorite store through their shopping network.
What Is Ebates?
Ebates with millions of members and 1,800+ of the world's top online stores to earn cash back, it's the most popular cash back shopping portal that pay you for making purchases from many brand-name merchants and service providers. They include, but are not limited to, Amazon, Best Buy, Wal-Mart, and Home Depot. Similar cash back programs include Mr. Rebates and TopCashBack. You can find my whole list of cash back shopping portals. Not only are you getting cash back, Ebates gives you access to store discounts, special promotional codes, shopping coupons, and special merchant deals.
Ebates is FREE to join, plus you get a FREE $10 gift card, and earn cash back for shopping at some great stores! Right now, you can also refer two friends and make $50 cash bonus. They will need to make a $25 purchase through their account in order to activate your referral bonus. They will also make $10 each after shopping through their shopping network.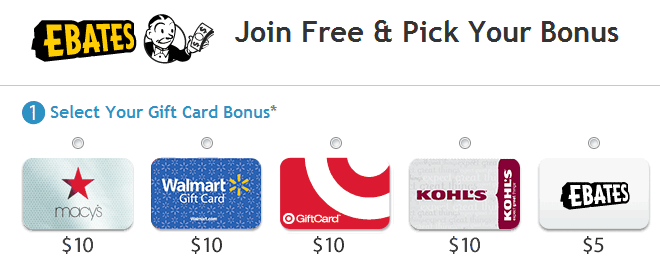 Ebates $10 Signup + Unlimited $25 Referral Bonus:
Expiration: December 31, 2018
Terms & Conditions: Ebates will pay you a $25 Referral Bonus through your Ebates account for every Qualified Referral (defined below) you refer during the period commencing on April 1, 2018, and ending on December 31, 2018 ("Referral Period"). A "Qualified Referral" must (i) be a new member of Ebates, (ii) be referred by you via your custom referral link, the links via the invitation forms on this page, or other methods supplied by Ebates that allow for proper tracking of referrals, (iii) sign up at Ebates.com during the Referral Period, and (iv) make qualifying purchases totaling $25 or more that earn Cash Back within one year of signing up.
Ebates Online Shopping Bonus:
Step 1: Join Ebates FREE for online cash back shopping, pick a FREE $10 Gift Card, and make your first $25 dollar purchase to activate the bonus.
Step 2: Within your Ebates account, Click on the Refer-A-Friend button and send out as many referrals as you want (friends or family members), and tell them to pick a $10 gift card and do the $25 purchase requirement for bonus activation.
Step 3: Once everyone makes their $25 purchase requirement, all bonuses will be activated.
About Ebates:
Ebates is a well known cash back website that was acquired by Rakuten in 2014. It generates revenue from the affiliate links their customers click on to order a product. Ebates gives low commission to customers after they buy different products through their website. This means that consumers will get low amounts of cash back every time they make a purchase, which encourages them to purchase a product through Ebates rather than purchasing the product on its own.
Bottom Line:
Sign up for an Ebates account to earn cash back on your purchases. You'll get a $10 cash sign up bonus when you make your first $25 dollar purchase. Plus, get an unlimited $25 referral bonus with your qualified referrals (new Ebates referral members with purchases of $25 or more). If you like cash back offers, take a look at our list of our best cash back shopping portals. Plus, find out more was to make money online with our updated list!