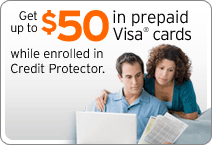 I have at least 3 Citi cards with 0 balance and sitting on my desk. If you have a Citi credit card with 0 balance, make your card useful by signing up to Citi Credit Protector. You can get either $50 or a free DVD player.
They will send you 5 ten dollars coupon to be mailed in each month. Imagine you have 4 cards signed up, hence you could be making $200 in free money.
Make sure to remember to not charge on any of the cards you sign up with. Otherwise, it will cost you money. After the 5th month, call them to cancel. They will offer you $50 more for 5 more months to continue. This could double your rewards.
Get 10,000 to 20,000 bonus Thank You Points from Citi Premier Elite, Premier, CitiBusiness, and More. Also, free 25,000 AAdvantage Miles and 15,000 HHilton Hotel Points from Citi. Sign Up Today!