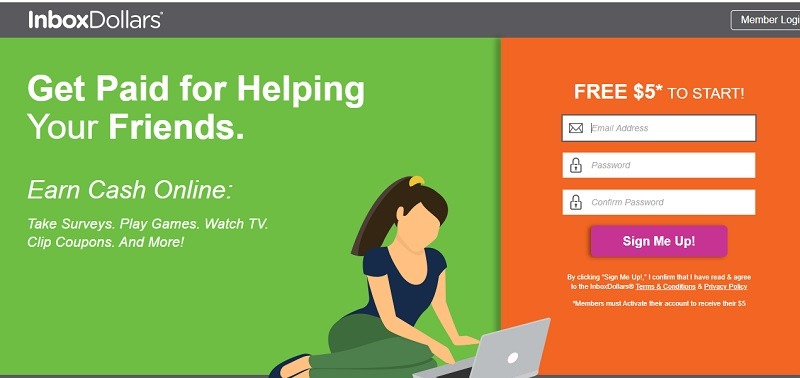 In today's society, it is is definitely difficult to stay financially stable, especially with having to save money to buy gifts for the holiday season, paying off those monthly bills, or to put a dent into paying off student loans. With Inbox Dollars, you can find several ways to put just a little more money in your pocket.
Although you can't really make a living off of doing so, Inbox Dollars is a great way to earn some quick and easy money online in your free time. With how unstable the economy can be, you should definitely take advantage of all the opportunities to earn some extra money with Inbox Dollars. Join today, and get a $5 Bonus just for signing up!
About Inbox Dollars
---
Founded in 2000, Inbox Dollars has been on of the most successful companies to offer cashback opportunities to their members. Inbox Dollars has expanded through mergers to the point where their program is now available to consumers in the United States, Canada, and even the United Kingdom.
The program works by having their members connect with brands through completing surveys, shopping through a cashback portal, and even through giving feedback on particular videos. Brands will use this information provided to them by the members to create better products in the hopes of attracting more consumers.
---
How to Earn Money with Inbox Dollars
---
Inbox Dollars offers several ways for you to earn some easy money. You can later redeem the money you earned into direct deposit via PayPal, pre-paid gift cards, or a mailed check.
The following are the ways you can start earning. Keep in mind that you must reach the threshold balance of $30 before you can cash out.
Completing Surveys – This is one of the more popular ways to earn money with Inbox Dollars. With several surveys available, you can earn anywhere from $0.50 to $20 per survey based on the length and complexity of the survey and depending on if you fit a specific demographic that companies would like to get information from.
Watching Videos – If you are already on the computer streaming videos, then take advantage of this opportunity. You can now earn around $0.50 for every short video snippet you watch. The videos range in different topics, so you you are sure to find a video you would be interested in watching and can make some quick money while doing so.
Playing Games – Inbox Dollars is currently working with the Game Show Network (GSN) to offer games on their site. However, these games require you to make in-game purchases to earn cashback. If you are fine with making some micro-transaction purchases inside the online games, you can earn some cashback by doing so.
Shopping Online – If you already frequently shop online, you can earn cashback by shopping through their portal. The portal allows you access to cashback deals, free samples, discounts, and more. There will always be a good amount of options and deals as the deals are rotated every so often.
Email Promotions – If you don't mind reading through a few extra emails, you can now earn cashback by reading through emails sent by companies partnered with Inbox Dollars. All you have to do is read through the emails and click a button or take action on a specific offer to earn the cashback.
Using Coupons – For those who often use coupons to save some money on purchases, you can save even more money by earning cashback by using coupons provided by Inbox Dollars on eligible purchases. These coupons are usually to save money on home goods, groceries, beauty supplies, and more.
(Visit link above to sign up today and get a $5 Bonus)
---
Bottom Line
In the grand scheme of things, you are basically exchanging valuable information such as personal opinions, thoughts, and data to earn some extra money. Brands are willing to give you this opportunity by partnering with Inbox Dollars. They value your time and information and will use this to create more appealing products and services.
This is a great way to earn some easy money when you literally have nothing better to do. Join today and get a quick $5 Sign Up Bonus to start you off. With all the opportunities made available by Inbox Dollars, you might as well take advantage of as many of them as you can. If you like earning cashback on all your online purchases, be sure to check out our list of the Best Cashback Shopping Portals.