This is Hot! This $25 Kmart gift card for $20 coupon is targeted to some K-Mart locations. If it doesn't work, you can still get this Kmart free candy coupon.
Below is a list of confirmed States:
Washington
Arkansas
Alabama
Ohio
Minnesota
Wisconsin
Michigan
Pennsylvania
Florida
New York
New Jersey
Texas
California
Specific locations:
City, State
Portage, MI
Grand Rapids, MI (4111 Mall Drive, by Plainfield & Jupiter Ave.)
Northridge, CA
El Paso, TX
Arroyo Grande, CA (93405)
West Seneca, NY
People manage to get $25 gift card for only $20 bucks. That's 20% savings, and there is no limit. Some people even manage to buy the gift cards with the discounted gift card they got previously. The cycle just continue. Although your mileage may vary.
When you print out the coupon, type this somewhere on a piece of paper:
Coupon code off my receipt for 5.00 off is 57200099274
If the scanning of the barcode doesn't work, tell the cashier to enter the coupon code anyway. It should take off any amount of gift card.
Another way of making this work is to get Walmart to coupon match. They love to take K-Mart business away. Print this Kmart promo and take it to Wal-Mart to get a coupon match.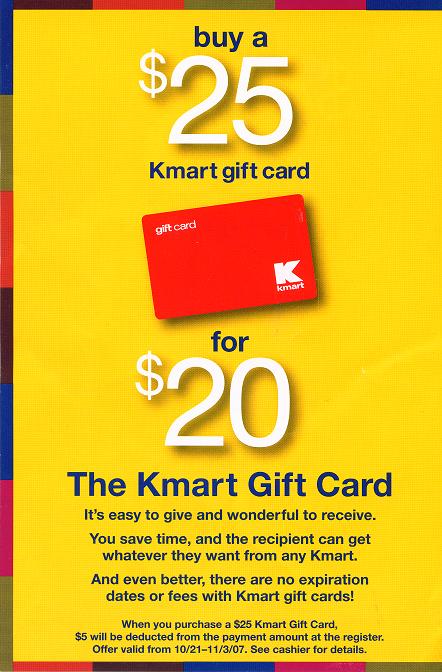 Get $100 bonus in gift card when you sign up with Citi Professional Card with Thank You Network