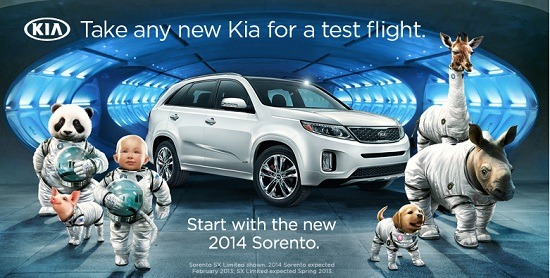 Don't wait much longer! Kia is offering a $25 Visa prepaid card to test drive by March 31, 2013. However, it's only available for the first 10,000 people to participate. There is no cost to do this and you'll probably enjoy test driving a new Kia. If you know you don't want to buy the car, you can be up front with the car dealer and tell you are here for the $25 bonus. They will simply sign and give you the priority code to get the $25 bonus.
TERMS AND CONDITIONS:
Test-drive offer is valid from January 30, 2013, to March 31, 2013. To be eligible, test-driver must be 18 years of age or older with a valid driver's license. This offer is non-negotiable and non-transferable. One (1) $25 Kia Visa® Prepaid Card per person. Test-drive and dealer validation required. Only the completed certificate with an original dealer signature and unique Personal Priority Code will be honored. Your envelope with the original, completed certificate inside must be postmarked by April 15, 2013. All matters of program eligibility and qualification will be conclusively resolved by Kia Motors America, Inc., in its sole discretion. Offer valid only in the continental United States; void in outlying areas. Void where prohibited. Offer is limited to the first 10,000 completed certificates received or while supplies last. Kia is not responsible for mistakes or typographical errors. Kia is not responsible for lost or misdelivered mail. Kia's liability is limited to the value of the Visa® prepaid card. The Visa® prepaid cards to be issued by by MetaBank™ pursuant to a license from Visa® U.S.A. Inc. For comments or questions, please call 1-877-883-4913.
With a limit of 1 $25 Kia Visa Prepaid Card per person and only for the first 10,000 participants, sign up today to reserve your spot for this free $25 bonus. Then send in your envelope with the original, completed certificate inside by April 15, 2013 to get your free $25 Kia Visa prepaid card.

Hot Deal of the Day: Ebates offers $10 gift card bonus and the best cash back for online shopping for major retailers.