For our fellow gamers, there's a promotion that's gonna make you want to binge play your new games. LivingSocial is having a promotion where you can earn a free 1 month voucher for Gamefly, along with a $5 credit for brand new users. Gamefly is a online video game rental website where you can rent games in any console possible and even movies. There's over 9,000 games and movies that you can choose from with free shipping. There's no late or cancellation fees so you can feel no guilt when you can change your games or movies anytime. This is only available till February 28, 2018 so hurry now and grab your free voucher!
LivingSocial Gamefly Promotion:
Promotion: earn a free 1 month voucher and a $5 credit for Gamefly
Expiration: February 28, 2018
Availability: must be purchased through LivingSocial
Terms: Promotional value expires Feb 28, 2018. Amount paid never expires. Limit 1 per household. Must enter a valid credit card to redeem voucher on GameFly site. After the subscription period provided by the voucher, your subscription will continue and your credit card will be charged on the first day of your paid subscription and on each monthly anniversary thereafter until cancelled. You may cancel at any time by clicking on "My Account" on the GameFly website or emailing [email protected] Must be 18 or older and reside in U.S. to redeem voucher. Notwithstanding anything to the contrary herein, there is no amount paid associated with this voucher. $5 credit will be applied to your account once registration is complete.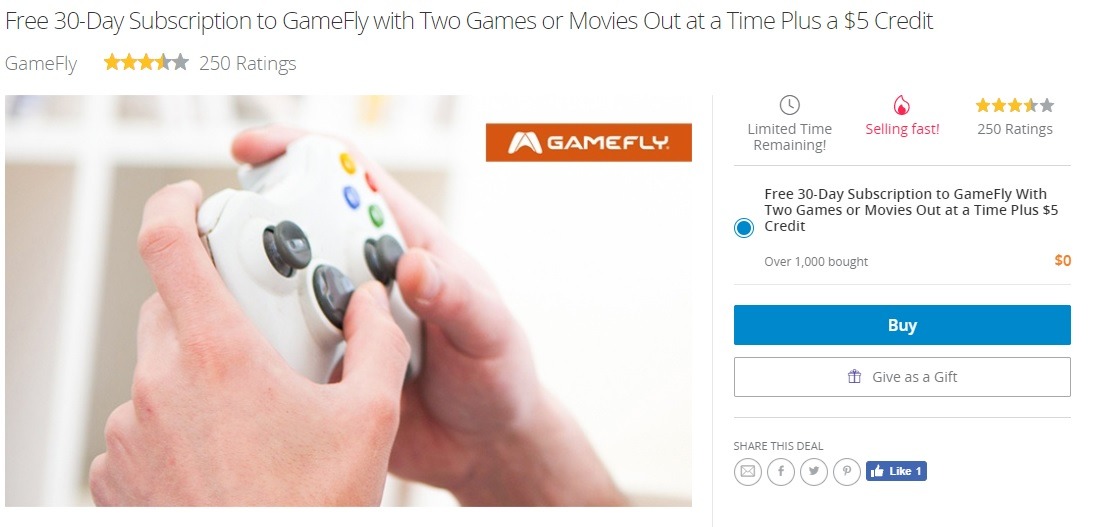 How To Earn Free Voucher + $5 Credit:
Sign into your LivingSocial account or create one if you have not.
Add the GameFly voucher into your shopping cart, this will only be valid for brand new users.
Finish your transactions and sign up for GameFly.
Fill out the required information needed to create your new account.
Afterwards, start renting games or movies of your choice!
Bottom Line:
Get ready to pull out all of your consoles because you can now rent games or movies any time! LivingSocial is having a cool promotion where you can get a free 1 month voucher and a $5 credit for GameFly. This is only valid for brand new users unfortunately, but doesn't mean you can't create a new email address and take advantage. This is such a great offer for those that love games and movies because there are no late or cancellation fees that applies. You can rent and return when you want which is the best thing ever. Grab your free voucher today before it expires! Check out more ways to save money here on HMB.