Fill out your info at this link: http://66.129.112.72/sportsweb/
**Update: link is dead…go down below and print one out. Link is now working again! Dead again.
Need more coupons? Just use multiple different email addresses.
According to the website:
With your Lowe's Project Starter Card – good for $10 off your Lowe's purchase of $25 or more. Gain a first down on those projects you've had in mind. Just enter the information below and you'll receive an email with instructions on how to print your card.
Here's a trick to get multiple coupons using the same email address:
For multiple coupons:
Hit the back button so that all your information would still be filled in.
Only things you would need to change are the address and the email address.
For the email address just add a period anywhere in it and it will send it to the same one. For Example
gmail@gmail.com
g.mail@gmail.com
If you used the 2nd one it would still send it to gmail@gmail.com
Use whatever address you want since they will not mail you anything. The coupon goes to your email.
If you want the coupon right away, download Lowe's coupon here . This probably works best if you use it at Home Depot since they will gladly accept any competitors coupon.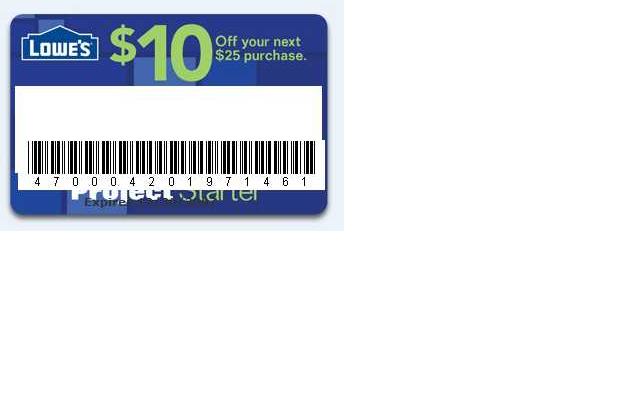 If you are looking for a 10% off coupon for the entire purchase, then check out Lowe's Moving page.
Lowe's Kitchens is also having this promo whereas if you spend $1000, you will get $100 Lowe's gift card. You must register through Lowe's Kitchens. Purchases must be done by November 21st 2007.
Get 5000 bonus points = $50 Gift card with Platinum Business FreedomPass Credit Card from OPEN the small business team