If you are planning on visiting Germany in the near future, now would be a great time to do so. With the Lufthansa Voucher promotion, you can get 20 EUR for Germany Departures. Lufthansa has these promotions quite frequently and they all differ by location, this one is for Germany specifically. Simply fill out a form for the voucher, apply the password "Lufthansa", then download your voucher code and redeem it against your next Lufthansa flight. Take advantage of this promotion and maximize your savings on your next flight.
Lufthansa Voucher Promotion:
Promotion: Get 20 EUR for Germany Departures
Expiration: Book between September 24th and October 10th 2018; Travel by September 28 and March 31, 2019
Terms & Conditions: The voucher can be redeemed between 09/24/2018 and 10/10/2018. Travel must be between 09/28/2018 and 03/31/2019. Vouchers are only valid for itineraries where all flights are operated by Lufthansa and Lufthansa City Line. The voucher is only valid for flights departing in Germany and can only be redeemed at www.lufthansa.com.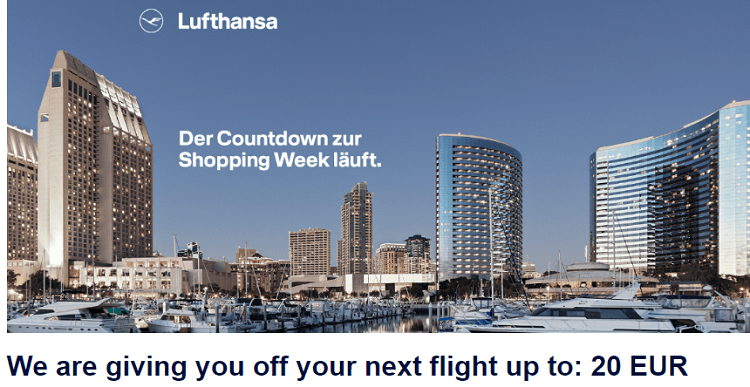 How to Get Lufthansa Voucher:
Visit the Lufthansa Voucher Promotion page
Simply fill out the form and you will receive a discount voucher code by email
There is a required password of "Lufthansa" for the voucher request
Book by October 10th 2018 and travel by March 31, 2019
Enjoy 20 EUR for Germany Departures!
Bottom Line:
The Lufthansa Voucher Promotion allows you to get a voucher for 20 EUR for Germany Departures. To receive the voucher, you must fill out the form with the password "Lufthansa" This promotion is only valid for bookings by October 10th 2018 and travels by March 31, 2019 so if you're interested, be sure to book as soon as possible! Find other opportunities to earn points, miles, and bonuses for your next vacation with our listings!