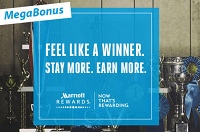 Marriott MegaBonus Promotion is offering a Free Night Stay, registeration is now open and promotional period is from February 1, 2016 and will go through May 15, 2016. There are multiple earning levels and the promotions differ for members. For now it looks like everyone will start with a free night stay after you've completed two separate stays at participating properties. Simply log into you Marriott Rewards account and look for the offer. You must be registered by April 15, 2016 to qualify and consequentially enroll for each next earning level to reach your next reward. Use your Marriott Rewards Premier card so you don't miss out on any additional savings!
Earn Marriott MegaBonus Promotion:
Log into your Marriott Rewards account and register by 4/15/2016
Stay at participating properties between February 1 – May 15, 2016
Win #1: Earn a free night after two stays
Win #2: Unlock your new bonus points offer – and register when it appears in your online account
Win #3: Every stay counts at 4,000+ hotels worldwide
Remember to book direct on Marriott.com.
Rooms booked through third party online retailers and travel agency bookings are ineligible to earn points. Full Terms and Conditions.
Bottom Line:
Be sure to register before you make any stays to ensure you get your first reward, a free night's stay in a category 1-5 hotel. Your reward is subject to expire 6 months after the issue date. There is more then one type of Marriott MegaBonus Promotion offers available, be sure to check in with your account to see what individualized rewards program you are targeted for. Check our listing of Free Miles, Points, & Rewards!