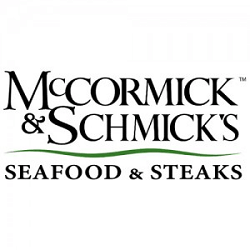 Love the taste of McCormick & Schmick's Seafood and Steaks? Well if you do, there is currently a McCormick & Schmick Promotional Gift Card Sale going on right now. They are offering a $20 bonus with a $100 gift card purchase.
All you have to do is head on over to their promotional page and buy a gift card before the deal expires on December 24, 2018! Note that the gift card must be used before May 31, 2019. Don't hesitate and get this gift card as soon as possible and make sure to tell all your friends and family about this deal as well.
McCormick & Schmick's $20 Bonus Card
Promotion: $20 Bonus Card for every $100 in gift cards
Expiration: Must purchase before December 24, 2018.
Availability: At participating locations only.
Terms & Conditions: This is a "PROMOTIONAL CARD" issued by MOCGC, Corp. that can be used ONCE and only towards a minimum $50 food and/or non-alcoholic beverage purchase at any participating Landry's restaurant in the US; only two cards can be redeemed per visit per table. It cannot be redeemed for take-out, gratuity or gift cards. REWARD EXPIRES ON 5/31/2019 and is NOT VALID ON VALENTINE'S DAY 2/14/19 or MOTHER'S DAY 5/12/19. Presentation and surrender of this Card is required. This Card has no cash value. Except as required by law, the Card cannot be redeemed for cash in any jurisdiction, including the state of New Jersey and will not be replaced if lost, stolen, altered or damaged. It cannot be used with any other offers or discounts of any kind and loyalty club points will not be earned. Landry's shall not be responsible for any unauthorized use. Internet distribution or resale is prohibited. For more information, visit www.landrysinc.com or call 1.855.328.5781

Get $20 McCormick & Schmick's Bonus Card
Go on the McCormick & Schmick's Gift Card Page
Order $100 or more in McCormick & Schmick's Gift Cards
You will receive your $20 bonus card either to your email or in the mail
Bottom Line
McCormick & Schmick's is offering a $20 Bonus Card for every $100 you spend in gift card purchases. Be sure to buy this card soon, because this promotion ends today December 24, 2018 and when you get it make sure to use your bonus card by May 31, 2019. Tell all your friends and families about this deal, because it's a hard one to beat! If you love finding deals like this, be sure to check out our Restaurant Gift Card Promotions page as well as our Best Gift Cards page!
Chase Total Business Checking®: Earn $200 bonus when you open a new Chase Total Business Checking® account and deposit $1,000 or more in new money within 20 business days & maintain that balance for 60 days, and complete 5 qualifying transactions within 60 days. Chase offers financial products and services that let you bank when and how you want. Get Coupon---

Chase Business Checking Review

Huntington Unlimited Plus Business Checking: Earn $750 bonus when you open a Huntington Unlimited Plus Business Checking account and make total deposits of at least $20,000 within 60 days of account opening. The $750 bonus will be deposited into your account after all requirements are met and your account is open for 90 days. This account is for larger businesses with high monthly transaction volume.
Apply Now---

Huntington Unlimited Plus Business Checking Review

Huntington Unlimited Business Checking: Earn $400 bonus when you open a Huntington Unlimited Business Checking account and make total deposits of at least $5,000 within 60 days of account opening. The $400 bonus will be deposited into your account after all requirements are met and your account is open for 90 days. This account is for businesses with higher checking activity and greater cash flow needs.
Apply Now---

Huntington Unlimited Business Checking Review

Huntington Business Checking 100: Earn $200 bonus when you open a Huntington Business 100 Checking account and make total deposits of at least $2,000 within 60 days of account opening. The $200 bonus will be deposited into your account after all requirements are met and your account is open for 90 days. This account is ideal for start-ups and small businesses with lower balances and checking activity.
Apply Now---

Huntington Business Checking 100 Review