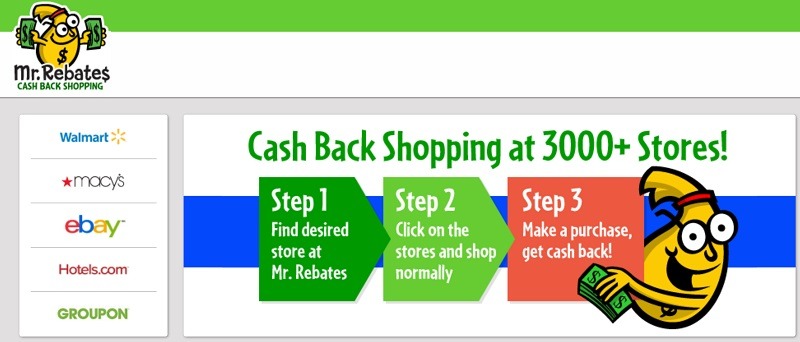 Read Mr Rebates Review here for all the latest info, bonuses, and cash back!
By far my favorite online cash back rewards site, Mr. Rebates is offering an exclusive $7.50 Sign-up Bonus after your first purchase for HustlerMoneyBlog readers! Sign up today from our referral link above only available on HustlerMoneyBlog!
Both fast and free to join, Mr. Rebates is easy to sign up with no spam and no spyware! Once you are signed up, shop at over 2,400 different cash back stores such as Amazon, Disney, Home Depot, Priceline, Sephora, Tigerdirect, WalMart, and many more. Simply click on a store and you will get the specified cash back percentage for purchases made at that store.
The biggest advantage for joining Mr. Rebates is their 20% cash back referral commission. Send your friends or family with a unique referral link within your account via Facebook, Twitter, email, etc and they will each receive $5 bonus after first purchase.
For the referrer, you get 20% of your referred friend's cash-back rebates on every purchase they make through Mr. Rebates(at no cost to them). Yes! You get that extra 20% every time your referred friend makes a purchase.
(Highest bonus for Mr. Rebates)
How Does Mr. Rebates Work?
Founded in 2002 by Mr. Craig Cassatta, Mr. Rebates gives shoppers an inventive way to save money via cash back rebates while shopping online. They have since added thousands of stores with new innovate shopping features along with the the best deals and coupons. For the past 14 years, they have awarded cash back to thousands of members including myself.
You might ask "How is Mr. Rebates able to give cash back from so many online stores?," Unlike other sites such as Slickdeals, Dealnews, etc that keep all the commission for themselves, Mr. Rebates refund the majority of that commission to you on each sale that is generated. They have also consistently supply their members with online coupons, discounts and cash back rebates to make shopping very competitive!
Each purchase you make through Mr. Rebates cash back store, you will automatically earn cash back to your Mr. Rebates account within 1-3 business days. Your cash back must be remained in your account for 3 months(so people don't cheat and return the products), then you can cash out your rebates via a mailed check or Paypal.

Mr. Rebates Account Features
$7.50 Sign-up Bonus after your first purchase.
Over 2,400 online cash back stores to choose with weekly deals, store of the week, and seasonal extra rebates.
Only $10 minimum payment threshold via PayPal or by check.
Refer-a-friend 20% cash back commission of their rebate.
Here's Why You Should Join Mr. Rebates
$7.50 Sign-up Bonus: Not only Mr. Rebates if free to join and easy to navigate, every new member gets a $7.50 bonus after your first purchase via a referral link. You won't find it anywhere else on the web!
Over 2,400 Stores: Each purchase you make at a Mr. Rebates' store will earn you up to 30% cash back on every dollar you spend! With over 2,400 stores, you are almost guaranteed to save big money using online coupons plus a cash back rebate with Mr. Rebates!
Refer-A-Friend: Whether you are using Facebook, email, twitter, links/banners, flyers, or business cards, they give you all the tools necessary to refer your friends, family members, or even readers from your blog. Each time the referral "friend" makes a purchase, you will receive cash back bonus equal to 20% of their rebate. Again, this is absolute no cost to your "friend" and come out of Mr. Rebates share commission.
More Benefits: You can earn higher than normal rebates from their Store of the Week. In addition, they offer weekly deals on their front page with extra store-specific incentives. During the holiday season, Mr. Rebates have extra rebates from many popular stores.
Minimum Payout: The minimum amount required to receive a quarterly payment from Mr. Rebates is $10. You can get your monthly pay-out with PayPal or by check that is very reliable.
Bottom Line
Sign up for a Mr. Rebates account for free today to earn your $10 bonus after first purchase. It's easy to start accumulating your rebates for shopping you normally do online anyway. Mr. Rebates has been around since 2002, and they have consistently dole out cash back including myself for years.
I've personally interviewed the founder of Mr. Rebates, Mr. Craig Cassata and can highly recommend Mr. Rebates for all my readers.  Don't forget to see my full list of Online Cash Back Rewards for all your shopping needs!