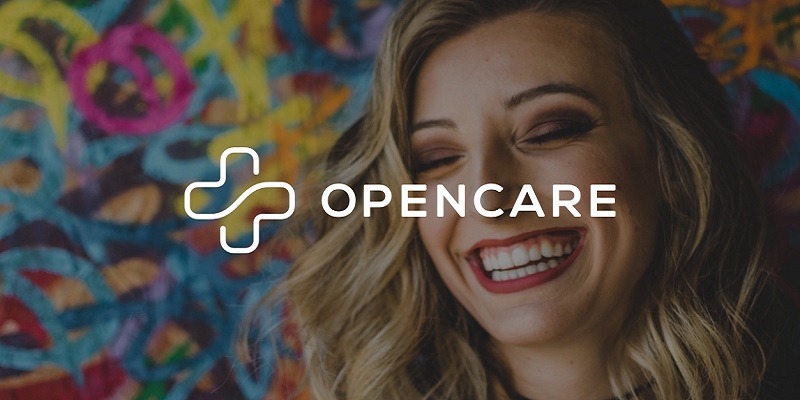 Find all the latest Opencare Promotions, discount codes, deals, and savings here.
Opencare is a service that helps you find the perfect dentist for you who is friendly, local, and convenient. On the platform, you will be able to search through the company's database and look up important information on dentists that you're interested in.
Additionally, you will be able to book your appointment through their site! Take a look at our listings below to see how you can save money on your Opencare services.
---
Current Opencare Promotions
---
Opencare $125 Welcome Offer
Get a free $125 gift card when you find a new Opencare dentist and complete your first visit. This is offer for a valid time so be sure to take advantage while you can.
What you get: $50 gift card

Amazon
MAC
Nike
Nordstrom
Sephora
VISA

Offer expiration: Limited time offer
 How to get it:

Bring a copy of your receipt or an insurance document that verifies your appointment so that you can receive your gift card
Get a free $125 gift card

Terms: This offer is limited to residents of California, Colorado, Illinois, Texas, Virginia, Washington, Washington D.C. and Ontario.
---
Opencare $50 Referral Bonuses
Get a $50 referral bonuses when you refer someone new to Opencare dentist. This is offer for a valid time so be sure to take advantage while you can.
What you get: $50 referral bonuses
Offer expiration: Limited time offer
 How to get it:

Share your referral link with friends, family, or colleagues.
Track how many referrals book a visit on your dashboard.
You and your friend each get $50 after they visit the dentist.

Terms: Maximum of $5,000 in referral bonuses
(Click on the link above to learn more about Opencare)
---
How Opencare Works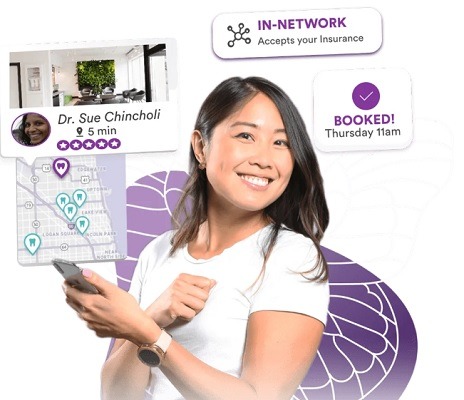 All you have to do to start using Opencare is enter you zip code on their site. Then, you will be prompted to answer a series of questions to find your perfect dentist, including:
What's the reason you need to visit a dentist?
How long has it been since you last visited a dentist?
Do you feel nervous about visiting a dentist?
Do you have a preferred time?
How soon do you want to visit?
Do you have dental insurance?
Is your doctor's gender important?
Are you ready to book right now?
Once you finish answering the questions, click "Show My Matches." Opencare will then come up with a list of dentists for you. You will see the dentist's name, their practice's name, their address with map view, and the drive time from the zip code you entered. Their quick view will show you average patient rating, review details and the number of Opencare patients booked in the past 30 days.
If you click on a dentist listing, it'll take you to that dentist's main page. You'll see more details like services provided, reviews, preferences, highlights and features. The dentist's education and certification, a short biography and the practice's pictures are also displayed.
Once you've settled on a dentist, you can click "Book Now" or "Request Appointment." Enter your first and last name, date of birth, email, phone number and insurance information (if applicable).
Even though you can book your appointment through Opencare, you'll have to contact the provider directly if you wish to cancel the appointment.
---
Opencare Dentists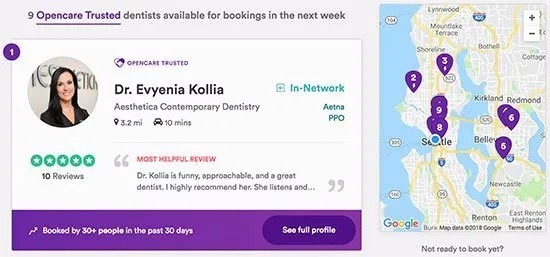 As a testament to their credibility, Opencare only accepts dentists that have positive reviews on third-party sites like Yelp, Google and RateMDs. All staff will then go through a tough on-site review. The practice cannot have a history of professional misconduct, like malpractice or fraud.
If the practice meets Opencare criteria and has outstanding patient reviews, they earn "Trusted" status. Trusted practices stand out of Opencare results with a purple highlight around their listing.
---
Bottom Line
Finding the right dentist for you is important and can be a time consuming process. With Opencare, the process of finding the right dentist for you is quick and easy.
All you have to do is answer some questions to personalize the search. Check out our list of Opencare promotions to help you save some money. For more posts like this, check out our list of ways to save money!