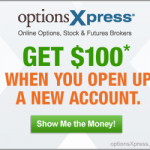 OptionsXpress, an online option & stock brokerage, can help you use options to protect portfolios, maximize returns on stocks, and increase investment income. With its innovative tools, they reduce the mystery and complexity of options to execute suitable options investment opportunities. You will find that optionsXpress site is easily to navigate and accessible. Opening an account takes less than five minutes online. Their excellent services include live help online, by phone and prompt email responses. There is no fees. They have been featured in Forbes.com, Businessweek.com, voted best online Brokerage by Kiplinger's, and many more.
Here's the deal. Simply email me hustlermoneyblog@gmail.com with your first and last name for an OptionsXpress referral link.
Email me for a referral link.
You must enter the promo code "FRIEND"
Deposit $600 into your account.
Execute 1 trade in order for me and you to receive the bonus money.
Leave at least $500 in your account for 6 months. Then withdraw.
There is no cost to withdraw your money.
Again, you must execute 1 trade in order for the bonus to kick in. It will cost you $15 to execute one trade.
From the website:
$100 in your account and $100 in your friend's account

Offer limited to one $100 bonus per referrer and referred friend, for each unique referral resulting in a newly activated, funded optionsXpress account meeting the terms and conditions of the refer a friend program. To qualify for the $100 bonus, the referred account must maintain a per account average balance of $500 for 6 months, and the account must trade at least once. The $100 bonus will be deposited into the referrer and referred accounts within 45 days after the referred friend meets the terms and conditions of the offer. To qualify, the referrer must enter the referred friend's email address through this page, and the referred friend must enter the promo code "FRIEND" through the new account application form when opening the new account. A referred customer can only qualify for the $100 bonus a total of one time. A customer can only qualify for a total of $500 from any combination of optionsXpress cash promotions per calendar year. Deposits of new funds or securities from existing optionsXpress accounts are not eligible for this offer. Qualified (IRA), linked and shared accounts are not eligible for this offer. This offer is not valid for optionsXpress associates, non-U.S. residents, certain referring parties, and where otherwise prohibited. Customers can not exchange the $100 for other offers, cash or credit. We reserve the right at our sole discretion, to cancel, modify or suspend this offer program at any time without notice.
It's a Win-Win situation to get free money for both of us, but in any case, Thank You for supporting me.