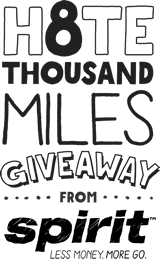 A friend once told me, "Spirit Airlines is the bane of my existence!" due to their excessive charges like carry-ons, printing a boarding pass at check-in, or even asking for water on their flights. Spirit has the highest number of complaints per passenger, however they claim their prices are 40% lower on average than their competitors. Well, now you can tell them how much "Hate" them with their 8K Bonus Miles Giveaway by making a complaint about them or any airline(you need a FREE Spirit account to participate).
Simply send a hate message of 140 characters or less to Spirit Airlines about them or another airline to earn 8,000 free Spirit Airlines miles. The 8,000 Spirit Airlines miles will be deposited into your account within 10 days. Those with a Spirit Airlines credit card, you can get a 1-way ticket for 2,500 Spirit Airlines miles. If not, you will need 10,000 Spirit Airlines miles each way. Here some more extra bonus miles to get to that 10K mark for your free one-way award ticket:
1,000 Spirit miles with a new Rewards Dining account and spending $30 (tax and tip count) at a participating restaurant.
750 Spirit miles by signing up for MyPoints and making a $25 purchase through their shopping mall.
400 Spirit miles for joining a survey site and taking your first survey.
Spirit Airlines 8,000 Bonus Miles Information:
Account Type Needed: Free Spirit
Availability: Nationwide
Expiration Date: 7/31/2014 or when Spirit gives out a total of 1 billion miles
Miles/Points Worth: You need 10K Spirit Airlines miles for a free one-way flight, so 8K miles = 80% of One-Way Flight Award
Additional Requirements: Tell Spirit or another Airline would much you hate them.
Miles Expiration: Miles expire after only 90 days of inactivity.
When flying Spirit Airlines, you should know that you pay for checked and carry-on bags. However, yYou are allowed 1 free personal item that is 16 x 14 x 12(a small backpack or purse). There is a $10 charge to print your boarding pass at the airport. And yes, even water is not free. Your Spirit Airlines miles expire after 3 months or more of inactivity and you can't gift or share your Spirit Airlines miles. If you can't get the 10K miles using all the above promotions, you could use your miles for free magazine subscriptions via MagsforMiles. Some examples include Fortune, The Economist, Money, Wall Street Journal, Time, Sports Illustrated, Vogue, People, etc.
In any case, free miles is free miles and you can tell how much Spirit sucks by filling a short form and get 8K free miles while at it.  See our full list of Miles Promotions!