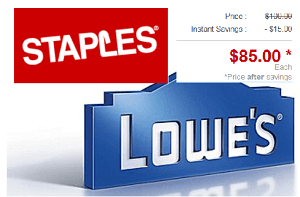 From now until September 26, 2015, you can buy $100 Lowes gift cards for $90 at Staples.com -an instant saving of $10! Then use these Lowes saving methods to double/triple up on your buying power at Lowe's! You are limit to three gift cards maximum, so buy all three if you know will be shopping at Lowe's. This will save you $30 if you buy $300 worth of Lowe's gift cards!
Delta SkyMiles® Reserve Business American Express Card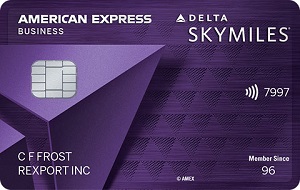 Staples Lowes 10% OFF Promotion:
Expiration Date: 9/26/2015
Requirements: Buy $100 denominations Lowes digital gift codes for $90- that's 10% off! You can buy $300 to save $30!
Additional Terms: Limit of 3 gift cards per customer.
Many people have reported of Staples not enforcing the limit of 3-per-transaction for in-store purchases. Since Ink or Amex SimplyCash can earn 5X points/5% cash back, this would be a great deal for racking up INK points. Buy these Staples Lowes Gift Card today to save 15% off on any future Lowe's purchases. Check our full list of Gift Card Bonuses for all your shopping needs!