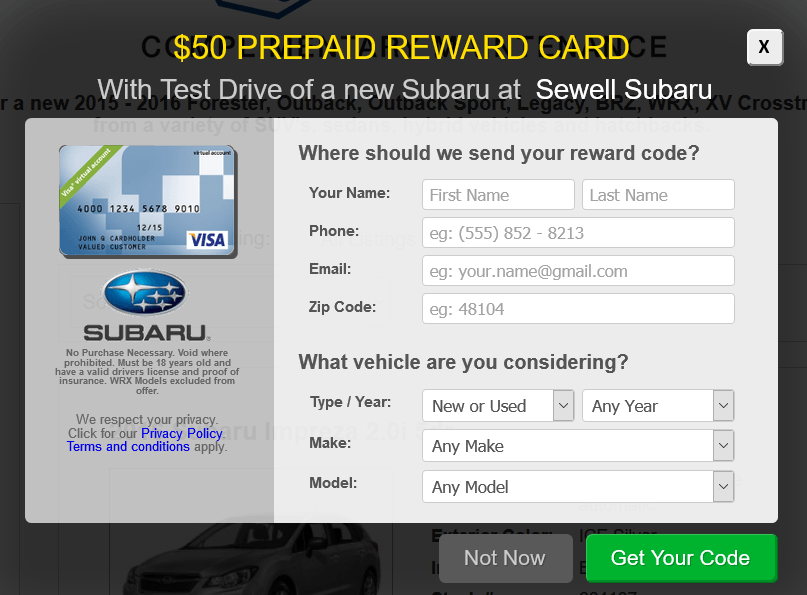 Back again! Subaru dealerships are now offering a $50 Prepaid Visa Gift Card to test drive a Subaru Forester or Outback. Simply follow the directions below to get a popup for a $50 gift card promotion. I have tested out many Subaru dealership websites across the U.S. from California to Texas, and the $50 Visa Prepaid Reward Card test drive promotion is being advertised in a pop-up screen. Make sure to click on new Subaru Inventory such as the Forester model to see if they offer it at your local Subaru dealership.
Subaru $50 Test Drive Promotion:
Sign up Offer – enter zip code, click local dealership, click on new inventory.
Maximum Bonus – $50 Visa Prepaid Gift Card
Expiration – Limited time only
Requirements – Visit your local Subaru dealership and test drive a new car.
Terms – Limit one coupon redemption per household per 6 months, must be at least 18 years old with driver license and valid insurance. WRX models excluded.
How To Earn Subaru $50 Test Drive:
Click on this Subaru website and enter your zip code to find the nearest dealership.
Click on a local dealership. At the website's header tab, click on "New Inventory". This will take you to a new page.
You should see a pop up window appear like above. Keep trying with different model, or different dealerships. If not start again with a new browser.
If you do see the pop-up like above, simply complete the form to get a reward code in order to redeem for a $50 gift card of your choice after your test drive.
You can track your status at MyGiftCardStatus.com.
Bottom Line:
The $50 test drive promotion is available for new Subaru only with a limit of 1 redemption code per household. Remember, the code can only be redeemed at participating Subaru retailers and you must be 18 or older with valid U.S. Driver's License to qualify and take a test drive. Let me know if it's working for you and if you are able to take advantage of the $50 Free Prepaid Visa Gift Card Test Drive Promotion! Find more ways to Make Money Online!