Turbo Tax offers a 10% bonus if you elect to accept your Federal Tax refund in the form of an Amazon gift card. The maximum amount of Amazon Gift Cards that you can get is $10,000.
TurboTax Amazon Gift Card 10% Bonus Program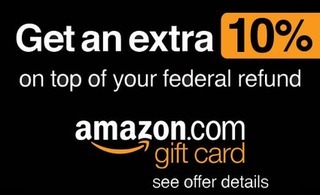 The Amazon.com Turbox Tax Refund Bonus Program is offering 10% bonus for using Deluxe, Premier, or Home & Business that can be downloaded directly from Intuit or Amazon.com. Simply select to use part or all of your federal refund  and TurboTax will email your Amazon.com gift card claim code. The Amazon gift card refund amount used to purchase gift card must be in increments of $100. For TurboTax Basic, you'll only receive 5% instead.
Example: $500 Back would be a $550 Amazon Gift Card with the 10% offer
How Amazon TurboTax Bonus Program Works
When you about to send your returns in the File section of TurboTax, you can choose to use part(or all) of your federal refund to purchase an Amazon.com Gift Card. Follow these steps:
Choose any increment of $100 from your federal tax refund to purchase an Amazon.com Gift Card. The remainder of your refund will be deposited to your bank account.
TurboTax will automatically give you an extra 5% or 10% on your e-gift card.
As soon as your refund is available, we'll email you your Amazon.com Gift Card claim code. There are NO fees and your gift card never expires.
The Amazon.com Gift Card offer is for federal refunds only with a maximum limit of $10,000 per customer. The  offer available only for TurboTax Online or CD/download versions sold and shipped, or downloaded directly from Intuit or Amazon. Buy Now to receive up to 10% bonus on top of your Federal Tax Refund when you file with TurboTax and use your Federal Refund to purchase an Amazon.com Gift Card. Find more ways to Make Money Online!