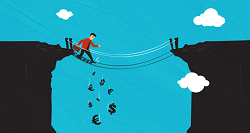 To all of the young adults out there, be careful. You are independent and the decision maker of your life. However, some choices can cause big pitfalls that can dramatically impact your financial future.
If you do not wish to fall into one of these pits, we can help you out there. We've put together a list of 10 Financial Pitfalls to Avoid in Your 20s! Take some time to read this list and find out how to avoid it.
10 Financial Pitfalls to Avoid in Your 20s
Viewing retirement as a thing you'll think about in 40+ years:

The pitfall: Failing to save money towards retirement is a huge mistake. Retirement may seem far away but it will slowly creep up on you. Savings made in the early years benefit the most and they can significantly reduce the burden you will have to take on at some point.
How to avoid it: Participate in your employer's retirement plan. Put aside a small percentage of each paycheck and you'll be building wealth for the future.

Claiming you'll "Gladly pay Tuesday for a hamburger today":

The pitfall: Debt should be dealt with sooner rather than put off for later. Whether it's student loans or credit cards, paying bills on time goes a long way in getting a good credit score. Without good credit, you will need to borrow money and your chances to get the job you want might decrease.
How to avoid it: Learn the difference between paying interest and earning interest.

Winging it, with no map or plan:

The pitfall: Many people in their 20's are clueless about their finances because they don't have a way to control their spending. You must keep a budget and stick with it.
How to avoid it: Start budgeting early on in your 20s and you keep up that good habit, you've set yourself up for a healthy financial future.

Investing too conservatively:

The pitfall: When you're young, you can afford to take some risks because you have time to make up for any losses.
How to avoid it: This does not mean to put all your money toward risky investments. A mix of investments is a smart plan at any age. But you may want to allocate more of your funds toward the riskier investments that hopefully provide a higher return over the long term.

Relying on one paycheck:

The pitfall: When jobs can be short-lived, it's smart to have multiple sources of income. Not only is it smart, but it is also safe.
How to avoid it: Pay off your debts and avoid bankruptcy. Get ahead of your finances by taking on extra work as you make your way up the corporate ladder.

Staying in the comfort zone:

The pitfall: As time goes by, you tend to stay in your comfort zone. Failing to assess your career progress and opportunities to advance will be your downfall.
How to avoid it: Instead of watching everyone else walk by you toward bigger and better things, be like one of them and plan ahead.

Not having an emergency fund:

The pitfall: You should understand in your 20's that the unexpected can happen at anytime. You need to have a large amount saving stashed away in an account you can quickly access if needed.
How to avoid it: Start saving money, even if it's a couple dollars a week and see how it grows. Any amount is better than zero.

Trying to live up to your parents:

The pitfall: Your parents have spent many years of hard work, managing their income, and making sacrifices. You are your own person so do not compare yourself to them. It is perfectly fine to gain some motivation for them though.
How to avoid it: Adopt a lifestyle that matches your income, and then work hard at budgeting, saving, and advancing your career to build up to that level.

Rushing to buy a house:

The pitfall: A lot of younger people become obsessed with getting their dream house. But doing so will result in having a big mortgage and taxes weighing you down. Instead, you can rent so you are still able to move around freely.
How to avoid it: Just because you qualify for a mortgage doesn't mean you're ready. And you don't need to take on too much either. Renting gives you flexibility as you get to that higher income where you can truly afford your own home.

Believing that paying the minimum is okay:

The pitfall: When you are in 20s, you are no longer bound to your parents but you also want to avoid being bound to creditors.
How to avoid it: When you can pay more than the minimum, do so. Pay attention to your credit card statements, and understand that it tells you how long you'll be paying for your current balance if you only pay the minimum.
Bottom Line
Young adulthood can be a difficult time. However, if you are looking for some assistance, we have compiled 10 Financial Pitfalls to Avoid in Your 20s. Take these tips into consideration to be more financially stable in the future!
If you're interesting saving even more money, we've also composed a list of other ways to Save Money that you can check out. Also if you would like to see all the latest bank deals nationwide, be sure to view our full list of Bank Bonuses and find one in your area!