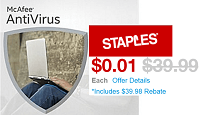 Right now Staples offers McAfee Software Bonus Profit opportunity when you purchase the digital content for $0.01 using Staples Rewards Easy Rebates offer expires on January 23, 2016. There are a couple of ways to maximize this offer and not only make it negative cost but also earn a tidy profit without leaving your home. Depending on whether you have a Chase INK or a Discover card will dictate the profit you can make on this deal. If you have both then it's no competition on which route you should choose to take advantage of the earning potential. Follow the steps below that applies to your situation to earn either $20 profit from Chase INK or $80 from Discover.
Delta SkyMiles® Reserve Business American Express Card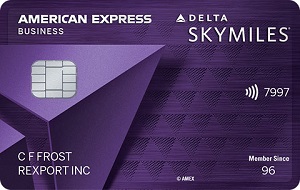 Staples McAfee Software Bonus Profit: 
Offer: Buy the McAfee Anitvirus Basic 1 downloadable software from Staples and pay only $0.01 after rebate. Use a Chase INK to earn 2,000 UR points or Discover to make a $80 profit.
Valid: Offer ends 1/23/2016
Terms: Limited time and supplies where available. Limit 10 per account. May not be valid in combination with other offers. Offer subject to change.
Maximize $20- $80 Profit Offer:
Scenario I With Chase Ink:
First enroll in Staple Rewards if you haven't already done so, it's free and will earn you Staples cash back. Depending which tier you are currently eligible for, you can get 2% – 5% back in Staples rewards.
Register for a Splender ( $5 sign up bonus) account to earn additional cash back for this portal site.
Buy 10x McAfee Antivirus Basic 1 PC for $39.99 each.
Pay using your Chase INK card which earns 5x cash back at office supply stores. That's approximately $400 worth of digital content which will earn 2,000 UR points = $20.
Staples makes rebates easy using their  Easy Rebate  which can be submitted online. You will get back $400 in the form of a Visa prepaid card in a few months from Staples via Staples Easy Rebate.
Final Math: $20 UR with INK + $20 portal cash back – Cost of $8 since that's your oppertunity cost.* Profit of $32
OR
Scenario II with Discover Card:
Follow Steps 1 – 2 from above. Hereafter is where you need to take a few extra steps but the rewards are 4x fold!
Buy Staples gift cards at 20% off using your Discover cashback. Using $320 Discover cash back will get you $400 of Staples Gift cards which are instantly issued. Since Discover lets you get denominations of $25 at the cost of $20, you can only apply a maximum of 5 gift cards for purchases at Staples so you must separate your online purchase as per below.
Buy three (3) software for $120 total and use 5x $25 Gift cards. Repeat again twice more for a total of 9 then one final time buy just one (1) $40 software download using the $5 balances from the previously used gift cards plus your last $25 Staples gift card.
What about taxes you say? Save the Sales Tax if you ship to a New Hampshire zip code. It's a digital download so nothing actually gets sent.
Final Math: $80 profit via Discover  + $20 from the portal – $8 opportunity cost* = $92 profit .
*Consider the $8 your opportunity cost when you use the $400 Visa prepaid card in place of using a card that normally earns you 2%. (A minimal loss compared to cash back)
Bottom Line:
NOTE: You may request a check after you get your Staples rebate card. Once you have the card, read the letter in which the card is attached. It says on the rebate letter: "Cancellation & Manual Check Issuance Fee: $2.50". For $400 rebate card, $2.50 fee is a great alternative. The Visa Gift card bonus are not PIN enabled so you can't load Serve/BB. Assuming your account survived. Some have reported loading their Amazon accounts with Staples Visa Rebate cards, can anyone confirm?
Staples Easy Rebate makes this deal even easier as it's all done online without putting on pants or even getting out of bed. Be sure to keep note of the zip code you had the downloads 'shipped' to in case you need to recall it for the rebate. This can be a simlpe small money making opportunity or a way to generate spend towards a credit card signup bonus you may have. Don't forget you can also earn 2-5% ($8-$20) in Staples Rewards depending on your tier. Easy money, my kind of deal. Don't miss out on other opportunities for Free Money!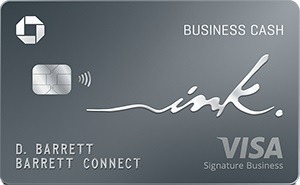 The Ink Business Cash® Credit Card offers $750 bonus cash back after you spend $6,000 on purchases in the first 3 months from account opening.

You'll earn 5% cash back on the first $25,000 spent in combined purchases at office supply stores and on internet, cable and phone services each account anniversary year, 2% cash back on the first $25,000 spent in combined purchases at gas stations and restaurants each account anniversary year, & 1% cash back on all other card purchases with no limit to the amount you can earn.

This card comes with no annual fee. You'll be able to take advantage of employee cards at no additional cost.



Learn More About This Card