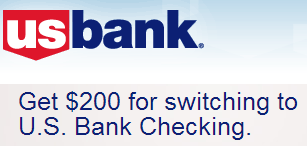 U.S. Bank offers a $200 checking account bonus with offer code CK1130A good until November 30, 2012. To receive the $200 U.S Bank checking account bonus, you must set up a recurring direct deposit of at least $100 within 60 days of opening your account.This is a targeted offer, so Your Mileage May Vary(YMMV). However, you may still be able to qualify for the promotion since banks are always looking for new customers. Just give them a call or visit the bank in person with the printout along with the promo code to open the $200 bonus promotion.
U.S Bank $200 Checking Account Bonus
For new customers only with at least $25 mininimum balance to open
Setup a recurring direct deposit of at least $100/month within 60 days of opening
Bonus paid 6-8 weeks after DD is established
Bonus is taxed as income (1099-INT)
There is a monthly maintenance fee of $6.95 with online statements or $8.95 with paper statements. However, there are two options to waive the monthly maintenance fee: 1) Combined monthly direct deposits totaling $500+, OR 2) Average account balance of $1,500. After 180 days, you can close the U.S bank account without a fee.
U.S Bank $200 Bonus Fine Print:
This offer is restricted to recipients of an offer via mail or email and is not transferable. A $25 minimum balance is required to open a U.S. Bank Checking account. Earn your cash bonus by opening a new consumer checking account by November 30, 2012 and setting up a recurring direct deposit of at least $100 within 60 days of account opening. You must use your Promotion Code when you apply. Your bonus will be reported as interest earned on IRS Form 1099-INT and will be credited to your new checking account within 6-8 weeks after direct deposit is established assuming account is open and in good standing. Offer may not be combined with any other cash bonus or marketing offers. One offer per household. Other restrictions may apply.
U.S bank locations are in many States. If you're interested, print out the U.S Bank $200 bonus promotion and take it to your local branch. Take advantage of this huge $200 bonus by signing today with your local U.S bank!

Find more U.S bank account bonuses today!