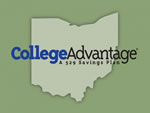 In the past, I have referred many members to Ohio CollegeAdvantage Direct 529 College Savings Plan. You can now get another $50 bonus when you deposit $3000 into account by April 30th.  They will applied the $50 bonus around June 15, 2012. They even let you set up automatic contribution if you choose or just wait and cash out.
COLLEGE ADVANTAGE $50 ACCOUNT BONUS OFFER RULES
The CollegeAdvantage $50 account bonus offer is available to existing CollegeAdvantage direct Account Owners who have an active CollegeAdvantage account opened before March 1, 2012. Note: BlackRock CollegeAdvantage advisor accounts are not eligible for the bonus offer.
A $50 account bonus will be awarded to CollegeAdvantage direct accounts meeting the following criteria: a. Account was opened prior to March 1, 2012, and is in active status. b. A $3,000 or more one-time contribution was made on or between March 1, 2012, and April 30, 2012, to an existing account. The contribution was made by check, phone or online at www.collegeadvantage.com. Note: Rollovers from other 529 plans qualify as a contribution. Transfers from another CollegeAdvantage direct or advisor account or reallocations of investment options within a CollegeAdvantage account do not qualify as a new contribution.
 Only one $50 account bonus will be awarded per account.
To qualify, the $3,000 contribution must be applied to one account and cannot be distributed over multiple accounts.
The $50 bonus will be distributed on or before June 15, 2012. Any withdrawal or transfer of the $3,000 contribution prior to June 15, 2012, disqualifies the account for the $50 bonus.
The $50 bonus contribution will be invested in the CollegeAdvantage investment option with the largest balance as of June 15, 2012. If a Fifth Third CD was the only option selected, the $50 bonus will be invested in the Fifth Third 529 Savings Account Option
Ohio CollegeAdvantage provides low-cost conservative investments for college with high-yield CDs and inflation-indexed bonds. Sign up today to get on this is an excellent $50 bonus.