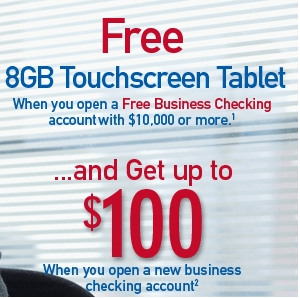 Flushing Bank is offering a FREE 8GB touchscreen tablet for opening one of its free Business Checking accounts. Flushing Bank's branches are found in New York, so if you know of a nearby branch read ahead to figure out how to get your bonus. All you need to do is open a new Flushing Bank Free Business checking account with $10,000 or more to receive a free 8GB touchscreen tablet. The Business Checking account provides great features, such as no monthly fees and no minimum balance.
Please note: this offer is only found in New York
Promotional Offer Features:
A $100 minimum deposit is required for opening a Business Checking account.
Valid business documentation must be provided at the time of account opening.
This is only available to NEW customers.
A new 8GB touchscreen tablet will be given to you if you also start off the account with $10,000.
So just open a Flushing Bank Free Business Checking account and set up a deposit worth $10,000 to get your new 8GB touchscreen tablet. If you're located near a Flushing Bank branch and are interested in a new checking account, stop in and claim your bonus!
Additional $100 Bonus Offer:
If you open a new Free Business Checking account, you can also earn a $100 bonus. You can receive $50 for the completion of 5 debit card purchases and receive another $50 for the completion of 5 online banking bill-payments via Flushing Bank's Online Banking portal. Each debit card purchase and each online bill-payment must be $25 or more and must be completed prior to 60 days after the account is opened. The offer will be credited to the checking account on or about 75 days after the account is opened.