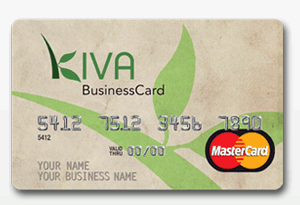 The charitable organization Kiva has a new Kiva credit card to help fund business loans in the developing world. They are offering a 15 month 0% balance transfer offer with no annual fee and cash back on charitable contributions. Balance Transfer fee is capped at $90, but my friend was able to call them and waive it for the first time. The best part is Advanta will match charitable contributions to Kiva up to $200 per month.
If you are not familiar with Kiva, visit the website to learn more about their person-to-person micro lending. It enables individuals to lend money to entrepreneurs in the developing world. It's semi-charity since you actually get your money back. The borrowers paid a small interest to cover costs of the microfinance institutions processing the loans.
Again, the Kiva credit card promotes charitable giving with a great rewards program. They will match dollar-for-dollar up to $200 per month when you start charging.
Here's more on their Matching Program Terms:
When you use your Advanta BusinessCard to make grants through Kiva.org for the benefit of business owners in the developing world, Advanta will match your grants, up to a limit of $200 per month per account in total. Here is how our matching program works.

Advanta will identify Kiva grants made by our customers using an Advanta BusinessCard on a weekly basis. Those transactions will then be reconciled to ensure that the matches are in line with the monthly limit of $200 per account. Based on this reconciliation, the match-monies will then be provided to Kiva. If your email address is known to Advanta, we will notify you by e-mail that your Kiva grant has been identified and will be matched.
Even though it's a business card, you are qualify to apply if you ever sold something on Ebay, set up  a garage sale, or any other home-based business. You can put your name as the business name and your social security number as the tax id. Your business is called sole proprietorship and it's perfectly legal with the IRS.
Here's a quick recap:
Use your Kiva BusinessCard to change the life of a business owner in a developing country. Apply now and you'll receive these unbelievable benefits
Advanta will match your grant to Kiva…dollar for dollar†
Unbeatable APR – 0% on balance transfers for 15 months, and 7.99% Fixed APR thereafter
Get 5% statement credit on your first $1,200 each year in grants to Kiva, charitable donations and other purchases.*
No Annual Fee
$0 Fraud Liability
†Up to $200 per account per month in total. See Matching Program Terms for details
*see Reward Program Rules for additional important information, benefits and limitations limitations