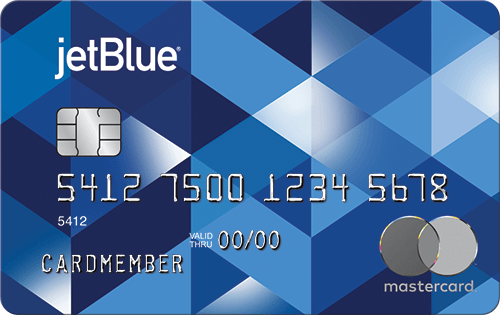 The Barclaycard JetBlue Plus Card is loaded with generous bonuses and rewards, and excellent benefits that promises a smooth flying experience for JetBlue loyalists. Also included are incredible features that equates to valuable savings. Achieve TrueBlue Mosaic status to unlock even more fantastic exclusive JetBlue rewards and flight benefits. The Barclaycard JetBlue Plus Card may quite possibly make you a frequent JetBlue flyer if you were not one already.
Welcome and Anniversary Bonuses
The Barclaycard JetBlue Plus Card offers a welcome bonus that gives you a jump start to earning reward points and an anniversary bonus to look forward to every year.
30,000 Bonus Points – Earn 30,000 points after spending $1,000 on purchases in the first 90 days of account opening. With analysts valuating each point at approximately 1.4 to 1.5 cents, 30,000 bonus points is worth approximately $420 – $450 which is enough for a domestic round-trip.
5,000 Anniversary Bonus – Earn 5,000 points after your account anniversary each year. The same valuation estimates that you would earn as much as $75 every year just by being a member and keeping your account open, active, and in good standing.
6 Point Rewards and 10% Back
The Barclaycard JetBlue Plus Card rewards for being loyal JetBlue flyers, for everyday purchases, and also for redeeming your points. Points earned can be redeemed for any seat available with no black out dates, and they do not expire. You also have the ability to pool points with family which can result in even faster rewards.
6 Points – Earn 6 points for every $1 spent on JetBlue purchases.
2 Points – Earn 2 points for every $1 spent at restaurants and groceries.
1 Point – Earn 1 point for every $1 spent on all other purchases.
Unlimited 10% Redemption Points Back – Every time you redeem, get 10% of your points back to use toward your next redemption. There are no limits on how many points you can get back when redeeming.
Money Saving JetBlue & Barclaycard Benefits
The Barclaycard JetBlue Plus Card is complemented with JetBlue airline and Barclaycard features that makes it not just a superior airline card but also as a primary credit card for everyday purchases. The $99 annual fee is definitely worth it starting with the anniversary bonus itself nearly offsetting the fee and continuing down the list of amazing benefits.
First Free Checked Bag – Members and up to 3 travel companions on the same reservation can check their first bags with no additional fees. With each checked bag costing as much as $25, there's potential to save $125 every flight.
50% In-Flight Savings – Save 50% on eligible in-flight purchases including cocktails, food and movies. These savings standout over the typical 20% discount with other airline cards.
$100 Statement Credit – Receive a $100 statement credit every year when you book a Getaways vacation package with your card.
Short Cut to TrueBlue Mosaic Status – Spend $50,000 or more on purchases with your card each year to attain TrueBlue Mosaic loyalty status which will greatly expand your earning potential and upgrade your level of benefits and savings.

 Earn 3 additional points for every $1 on JetBlue purchases. Also receive 15,000 points when you qualify for Mosaic status.
 Receive 1st and 2nd free checked bags which means even more savings.
No change or cancellation fees for members and fellow travelers on the same itinerary will allow you to be spontaneous and make changes as necessary.
Priority security and boarding will get you to your seat faster by skipping long lines.
Complimentary cocktails can be enjoyed as you relax on your flight.

Balance Transfer – Save money by transferring balances from high interest earning credit cards with 0% introductory APR on balance transfers for 12 months that posts to account within 45 days of account opening. Balance transfer fee of either $5 or 3% of the amount of each transfer, whichever is greater.
No Foreign Transaction Fees – Use your card freely as you travel outside the U.S. as purchases will not incur any foreign transaction fees.
Earn Serious Reward Points
There are serious reward points to be earned when you combine Barclaycard JetBlue Plus Card with other JetBlue reward sources. The following is a basic example of how you can earn an unbelievable total of 5,100 points or 17 points per $1 from a $300 round-trip JetBlue Blue Flex flight. Not included are other promotional point offers that can be earned in addition to the example below.
+ 3 points for TrueBlue Rewards membership
+ 5 points for Blue Flex flight booked on jetblue.com
+ 3 points for TrueBlue Mosaic status(spend $50,000 or more a year with Barclaycard JetBlue Plus card)
+ 6 points for using your Barclaycard JetBlue Plus Card
___________________________________________________
17 Points Per $1 x $300 Blue Flex Flight = 5,100 Total Points Earned
 Become a JetBlue Frequent Flyer
The Barclaycard JetBlue Plus Card gives exclusive access to JetBlue airlines which is renown for its excellent amenities and top-notch service. Available to dedicated members is a 30,000 welcome bonus and a 5,000 anniversary bonus that's difficult to pass up. What's even more compelling is the ability to earn legions of rewards and the money saving benefits that comes with it. The Barclaycard JetBlue Plus Card gives loyal frequent flyers even more opportunities to get on a JetBlue flight en route to a fabulous destination. Review our complete list of credit card bonus promotions.
ADVERTISER DISCLOSURE: The offers that appear are from companies from which HustlerMoneyBlog receives compensation. This compensation may impact how and where products appear on this site, including, for example, the order in which they may appear within listing categories. Other factors, such as our own proprietary website rules and the likelihood of applicants' credit approval also impact how and where products appear on this site. HustlerMoneyBlog does not include the entire universe of available financial or credit offers.
EDITORIAL DISCLOSURE: The editorial content on this site is not provided by the companies whose products are featured. Any opinions, analyses, reviews or evaluations provided here are those of the author's alone, and have not been reviewed, approved or otherwise endorsed by the Advertiser.