The 3.94% DOW rate is dead! However, you can get the NEA 3.71% APY.
Ever since WaMu went down to 3% APY, I want to find another local bank with high interest rate. Bank of America's Defenders of Wildlife(DOW) has a 3.94% APY rate for $5K or more. This is one of the highest rates for any bank – online or offline. Even though it's a special account, anyone can join.
Make sure you check options 2 under Savings when signing up to get the rate. Here's a picture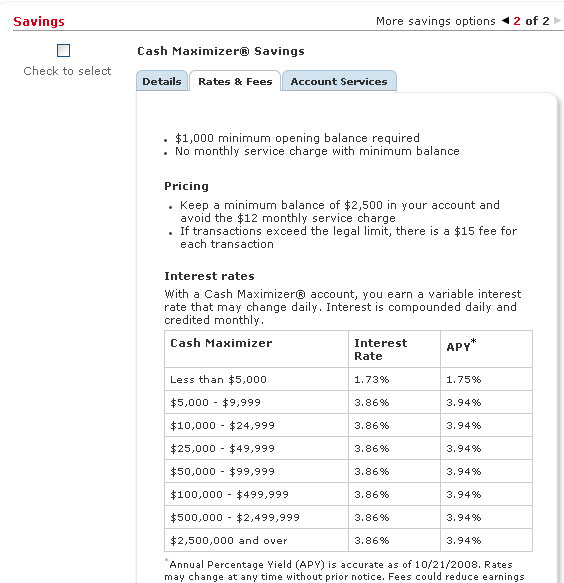 I went ahead and apply for this account today. Since I already have a checking account, there is no hard pull on my credit report. The checking is free with no direct deposit requirement. Also, free bill pay and no minimum balance requirement for checking.
The DOW Cash Maximizer savings has a $1000 funding requirement. They even let me funded with a credit card. It counts as a purchase, so I will get cash back too. Once you have your account, you must fund the account with at least $5K in order to get the special rate. If your savings is under $2500, then there is a monthly fee of $12. It wouldn't make sense for anyone to open this account without $5K anyway.
During the application process under checking, there is a spot for promotional code. Even though it's a longshot, I went ahead and put the $100 promo code WGSUOISI808. I wrote about that offer here for a different BOA account. It doesn't hurt to try.
If you are interested in a short term CD, they got a 4.25% APY CD with terms of 90 to 179 days. The minimum deposit is $1,000.
And if you never done their Keep the Change program, go ahead and sign up. It was one of my earliest hustles from back in the days for free $250.