Grading, valuing, and purchasing a diamond is an extremely complex process with many physical characteristics that must be viewed to ensure customers that the diamond is priced at a fair price for its beauty. Jewelers must look at the 4 C's of Diamonds- Cut, Clarity, Carat, and Color– to show its physical beauty and how the different attributes interact with each other to make a beautiful diamond. With all these things to look at, diamonds need a standard to fairly grade every diamond in the same way. The golden standard for grading and certifying diamonds is the GIA Certification. Diamonds with the GIA Certification are more likely to be priced and valued correctly than other diamonds that are not graded under their strict process.
Where Is The Best Place To Buy An Engagement Ring?
For
Diamond Retailer
Best Place To Buy Online
James Allen
Biggest Selection
Blue Nile
Best Diamond Cuts
Whiteflash
What is GIA Certification?
The GIA Certification was created by the Gemological Institute of America (GIA). They have created the standard to how diamonds should be graded in terms of the 4 C's of Diamonds. GIA Certified Diamonds are the most accurate and unbiased opinions on the diamond's value and gives the buyer more confidence in what they are purchasing.
Where Can I Buy a GIA Certified Diamond?
Anyone can get a diamond graded by the GIA. All you have to do is send an unmounted diamond to the GIA, pay a fee based on its carat weight, and it will go through their grading and analysis. However, GIA will only officially certify diamonds that will meet their extremely high standards. If you want to buy GIA Certified Diamonds, you should check out the following stores:
This diamond retailer prides itself on their precise cuts and the highest quality diamonds on the market. When shopping from Whiteflash, they ensure you that you are given the best price for the best diamonds. They are known for their:
A CUT ABOVE® Super Ideal Diamonds– They are the only developers and sole distributors of  this internationally acclaimed brand of precision cut diamonds, Round and Princess
GIA and AGS Specialists– Dealing exclusively in diamonds certified by best laboratories.
See our full Whiteflash Review!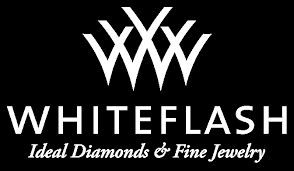 At Whiteflash, they're all about the Ideal Cut Diamond carrying the largest inventory & best selection of AGS certified ideal diamonds in the world!
• Exclusive provider of their own A CUT ABOVE® Super Ideal Diamonds
• Finest designer brands such as Tacori, Verragio, Simon G, Ritani, Danhov, Vatche, and Benchmark
• Entire staff GIA trained including several Graduate Gemologists & Diamond Graduates
• Complete Satisfaction Money Back Guarantee


The best place to shop for diamonds online as they offer not only high quality diamonds, but also a range of customer services to aid you in your process. This retailer is special for their:
360-Degree HD Video: Get more confidence with James Allen's 360-degree video feature!
Lowest Diamond Prices: Save big on purchases from James Allen with their low-priced diamonds.
Huge Collection: James Allen has a huge collection of loose sapphires, emeralds, and rubies. You can even design your own gemstone or engagement ring.
See our full James Allen Review!


At James Allen, their diamond and gemstone fine jewelry collection offers hand-crafted pieces of unforgettable luxury that are perfect for any occasion.
• Their mission is to offer consumers online the highest quality diamonds & largest selection at the best price.
• 150,000+ certified conflict-free diamonds, all photographed in 360° HD
• 24/7 Diamond Experts, with option for Real-Time Diamond Inspections
• Lifetime Warranty, Free Shipping Worldwide
• Hassle-Free Returns with 100% Money Back Guarantee


Hands down the largest Collection of diamonds you can buy online. Blue Nile offers you the diversity you need to look through hundreds of diamonds that will be able to fit anybody's preferences. Blue Nile is known for their:
Competitive Pricing: Blue Nile offers very competitive pricing by having a Price Match Guarantee.
Large Selection: Blue Nile has a great selection of other fine jewelry with diamonds, gemstones, and pearls. You can even design your own
of other fine jewelry with diamonds, gemstones, and pearls.


At Blue Nile, their jewelry is designed and crafted with high-caliber, quality materials and inspected with exceptionally high standard.
• Highest Diamond Quality Standard & Authenticity Certified
• Get More For Less & Always Have The Best
• Best Price: Find a comparable GIA graded diamond for less and they'll match the price. Pay 20% up to 40% less than traditional jewelers


Bottom Line
If you're looking for a diamond at the moment, you've probably been overwhelmed by the amount of things to consider when buying a diamond. One way to narrow down your search to the highest qualified diamonds is to only look through GIA Certified Diamonds. GIA Certification was created by the Gemological Institute of America and is the best way to ensure that the diamond is graded fairly and without bias. If you want to find the best diamonds, shop from stores like James Allen, Whiteflash, and Blue Nile to get GIA Certified diamonds, a ton of experience, and great customer service. If you're looking to buy from these online diamond retailers, check out our tips and tricks on "How to Buy a Diamond Online!"